For a designer, freedom and flexibility in system and space designs are paramount. Flexibility gives architects and interior designers the ability to change the shape, size and applications of space along with the economic impact of a building. HVAC systems are an integral part of a building and system configurations and requirements can dictate the designs of a building or space. But, LG Air Solution multi split systems are freeing designers of the restrictions in design commonly experienced with HVAC systems. In addition to this flexibility in design, LG multi split solutions also offer economic benefits that can afford more freedom for budget and planning while keeping occupants throughout the environment comfortable.
LG multi split solutions greatly reduce the footprint of outdoor units
The Freedom of Multi Split – Configuration and Aesthetic
Multi split systems make a world of difference when designing a home, office space or light commercial space. Single split systems require an outdoor unit for each indoor unit, which unnecessarily takes up an excess amount of space for installation. Multi Split systems are able to operate up to 9 indoor units with one outdoor unit depending on unit capacity. The system can also be easily expanded by installing additional indoor units when needed without additional outdoor units.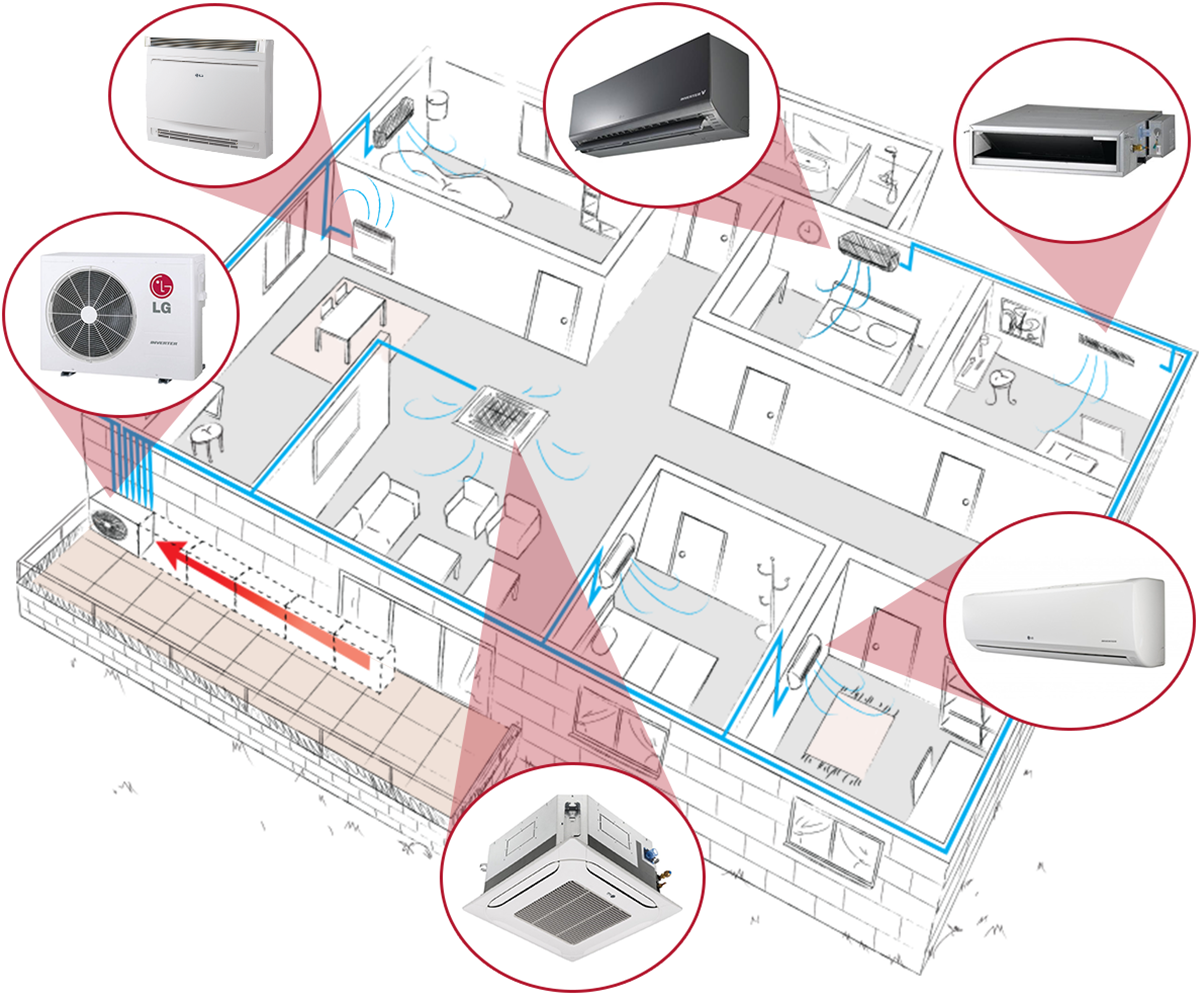 LG multi split systems give designers freedom across multiple rooms
The flexibility in design makes for more efficient use of space both in outdoor unit installation and in the aesthetic of the interior. The wide range of indoor units offered by LG provides nearly endless interior design options and each unit can be controlled independently from a single outdoor unit. Any combination of 4-way cassettes, single cassettes, concealed ceiling ducts and wall mounted units is possible for a fully flexible and expandable HVAC system.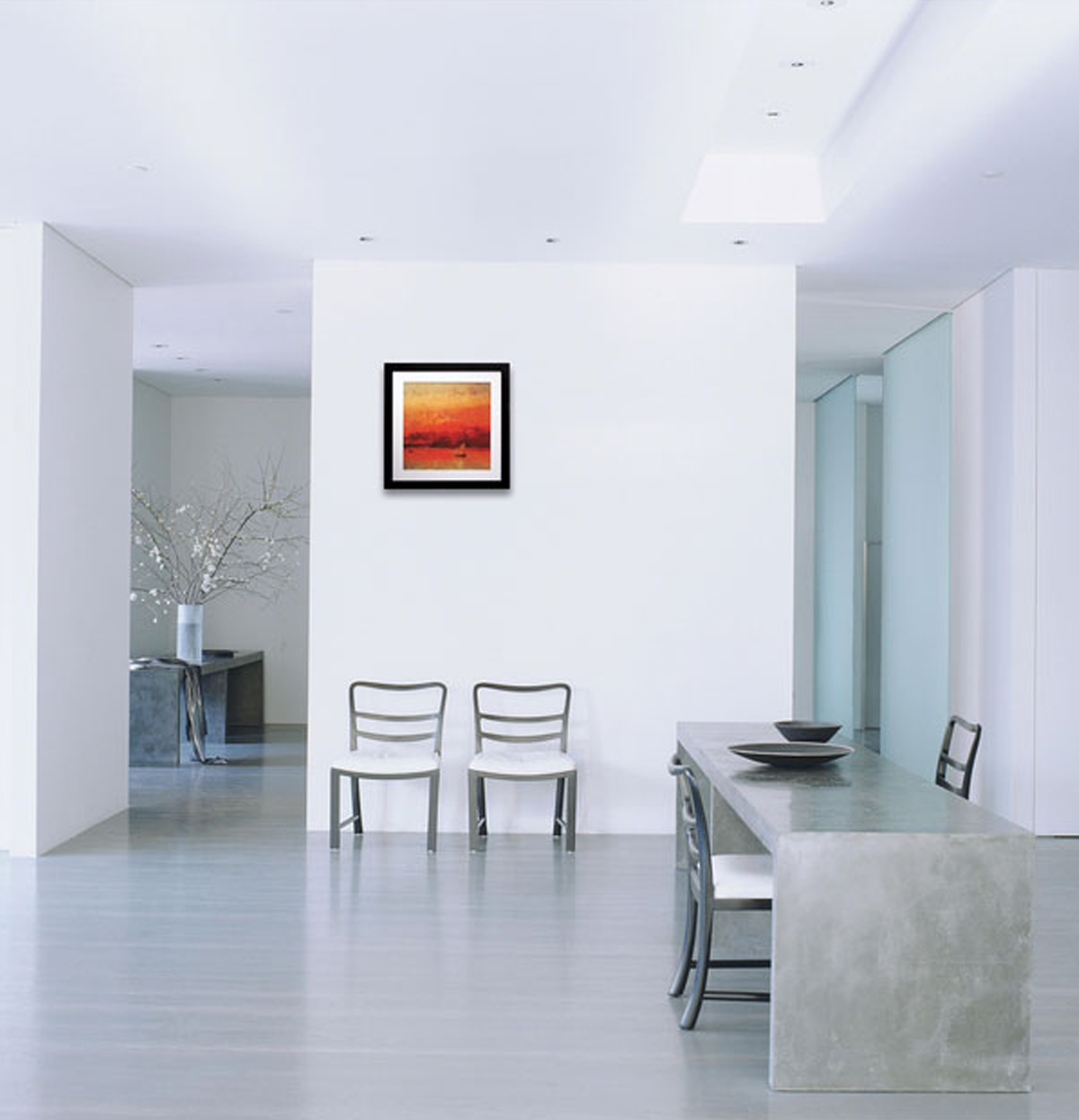 LG ArtCool wall mounted units add sophistication to any environment
How Multi Split Improves Our Designs
LG multi split solutions including concealed ducts and LG ArtCool work in home applications and are ideal for premium or high-end homes with unique spaces and challenges such as limited space, refined curves or angles, luxury environments and multiple levels. With a single outdoor unit, the exterior of a luxury home is free from the clutter of multiple cumbersome outdoor units. Designers in small, multi-floor offices can also benefit from LG multi split solutions due to the challenges presented by the diverse spaces in an office. Open floor office space, large and small meeting rooms and offices each require different indoor unit applications and diverse indoor unit designs. A single outdoor unit allows designers the liberty to keep exterior designs free from the clutter of multiple units and unnecessary piping. Light commercial spaces such as retail shops and restaurants also have unique functional and aesthetic requirements that create challenges for designers. The flexibility of LG multi split systems allow designers to freely combine indoor units to match each required application while adding to the aesthetic in any environment. The exterior of a complex can be kept clean without multiple noisy outdoor units and improve the overall design of the building can be left much more refined.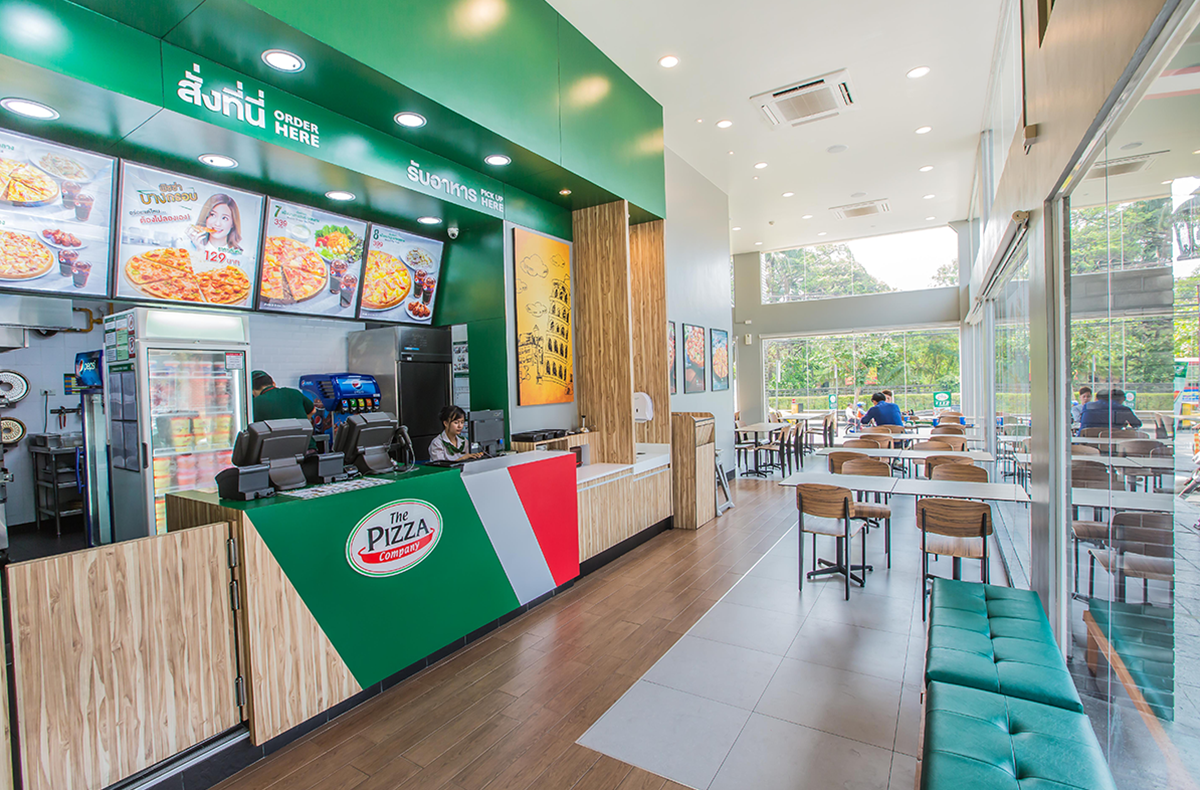 Combinations of indoor units can be run from one outdoor unit to suit the needs of retail spaces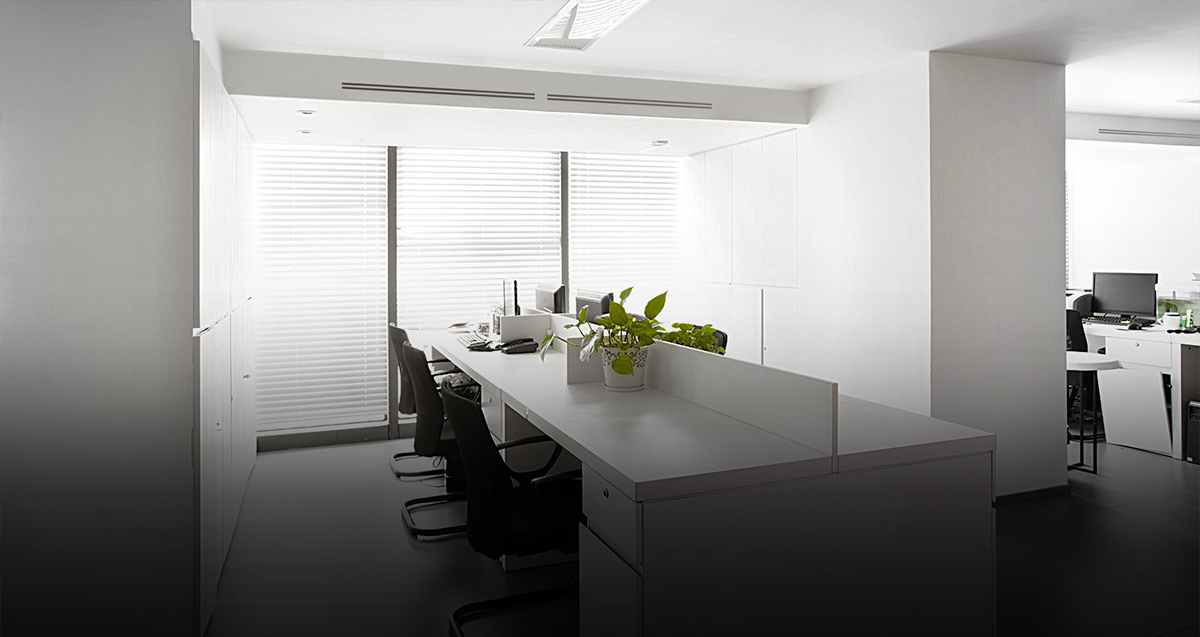 Concealed ceiling duct applications help create elegant designs for offices as well
Economical Advantages
The economical advantages and convenience of LG multi split solutions also afford additional budget and time that can be dedicated to design and installation. The high-efficiency Smart Inverter Compressor translates to higher cost efficiency and unparalleled durability eliminates unexpected maintenance costs. The improved heat exchange performance of LG systems can improve the COP as much as 6% and smart load control produces excellent power savings in milder temperatures. LG Smart ThinQ compatibility creates a more convenient control environment allowing for smart control of any indoor unit from virtually anywhere.
Freedom in design is a designers dream and a system with the advantages provided by LG multi split solutions make that dream a reality. Experience the freedom and flexibility for yourself with LG multi split.