Around the world, heating and air conditioning have become an integral part of our daily lives. Heating and cooling allow us to reside in places that would be otherwise uninhabitable and for most of us, they keep us comfortable in our homes, offices and shopping centers day-to-day. The term HVAC is a term meaning Heating Ventilation and Air Conditioning and it encompasses a broad range of heating and cooling products and services that make the places where we spend most of our time more enjoyable. As the HVAC industry continues to grow, there are more and more opportunities being created for people to make a career for themselves and have a profound impact on our world. But how should someone begin their quest to become an HVAC engineer? We had the opportunity to interview some specialists in the HVAC industry and get some sound advice for those who are interested in the field. In this two-part series, we will gain valuable insight into the path to become an HVAC engineer from three people who have experienced the journey first-hand and had great success.
An Interview with Soon-Chan Park,
Department Director at the CAC Overseas Engineering Support Part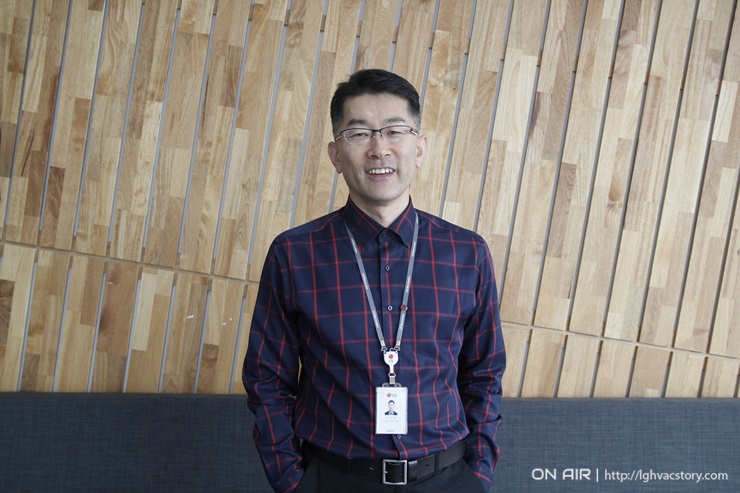 Q1. Please introduce yourself.
I joined LG in 1993 as a product developer, and then I moved to the sales team at the Shanghai branch, and to the sales engineering team. I'm currently in charge of HVAC engineer education and management at the LG HVAC Academy.
Q2. How did you begin working as an engineer?
I majored in Chinese literature in college and Chinese speaking engineers were needed when the company was preparing to establish factories in China. I was asked to work for the lab, and I've been working as an HVAC engineer since then.
Q3. Was it difficult to make the sudden transition into becoming an engineer?
It wasn't easy starting in a new field. After joining LG, I had to learn how to use CAD for the first time and study about the field by doing a lot of reading. An HVAC engineer cannot just think about air conditioners because completely different types of products such as system boilers, high capacity ventilators, and indoor/outdoor units should also be considered. This type of equipment that has been installed in buildings cannot easily be replaced when there are new products being introduced or when clients are unsatisfied. This can lead to high risk in a sense, but it can also be very interesting.
Q4. What does the LG HVAC Academy do?
"The LG HVAC Academy aims to become an educational institute that trains world-class experts on HVAC solutions."
Students at the academy take classes, tests, and earn grades like in other schools. What's different about the LG HVAC Academy, however, is that it is used by actual HVAC companies in order to help them improve sales and employees, clients, consumers, and construction companies are also our students. It is also considered a business center, and Korea has one in Changwon called Whisen Park. Including the global corporate academies, which act as hubs, as well as academies for clients, there are over 70 academies throughout 28 countries.
Q5. What do students learn at LG HVAC Academy?
The academy runs installer training programs where students can get certified as LG product installers, capability reinforcement programs for employees, and over 50 online and offline classes in which students can prepare for the HVAC capability examination. Sometimes trainers who teach classes in different countries are invited to the academy in Korea to learn about new products. Trainers from Europe, Africa, the Middle East, as well as Central and South America were invited last February and were taught for about a week, and trainers throughout Asia are planning to visit Korea in July. Some trainers based in India also had a chance to work in Korea through a field trip program which began last year, and their reaction was very positive. Besides the set curriculum, the academy also sends its most well-suited instructors when certain countries have specific needs.
Q6. Can those who haven't majored in the field become experts at the LG HVAC Academy?
Most people have related majors or some kind of experience in the field, but I think people without these qualifications can become experts as long as they have basic knowledge and are willing to learn, and I am a living example of this. Even though there are designated curriculums, certain people requiring special attention can be given extra classes, and special classes can be taught when there is a need due to national situations or a demand for new products. Even though it is a professional field, non-engineers join the academy as well, because they can learn sales know-how and knowledge related to sales and development. I've heard employees who haven't majored in related fields often become HVAC experts through the academy's training program.
Q7. What are the qualities of an LG HVAC engineer?
Qualities can be divided between specialists who are exceptionally capable in a specific area and generalists who are good in diverse areas, but HVAC engineers require both. HVAC systems are designed to be connected to various products and to create central systems through which an entire building can be controlled; engineers need to be able to see both the large picture and specifics. As I said earlier,
"Unlike washing machines and refrigerators, it's not easy to replace the whole HVAC system, even when there is a malfunction or new products. Precision is crucial to finding small mistakes that can lead to larger problems."
I would also like those with intellectual curiosity and a cooperative spirit.
Q8. What are the future prospects for HVAC engineers?
You have probably noticed that well-established engineers are in their sixties and seventies. This means that the field requires ample experience and that you can work regardless of age, as long as you're competent. It's not a rapidly growing market but it's always stable. Even when the economy isn't doing very well, people still buy air-conditioners for their buildings, and it's not easy for new companies to change the market completely either. For these reasons, I think this is an area where one can build a career with stability. Global prospects are also quite promising, so those who speak foreign languages will find their language skills very useful.
Q9. What goal would LG HVAC Academies like to accomplish this year?
Our goal is to become globalized. The academy supported HVAC qualification exams in five different languages including Chinese, Spanish, and Thai starting this year. There are people who have shown interest in taking the exam in Israel, so we've even created a Hebrew exam. Our goal is to create a program with more various languages to help people take our tests more easily. To achieve this goal, I would also like to see more capable engineers who have gotten level 3 or higher in the test which has a total of 5 levels. Each academy has their own level, and I would like more efficient academies with their own systems, even if they can't reach level 5 and become equipped with their own curriculum as does the academy in the U.S.
"The academies' ultimate goal isn't just to deliver knowledge, but to turn our students into LG's fans. I hope to see more of them this year."