Whether we notice them or not, there are sensors all around us measuring temperatures, humidity, proximity, light, and a wide array of other factors that determine how the devices and machines we use day-to-day operate. These sensors are responsible for our comfort, convenience, and safety. As technology across all fields has continued to develop, sensor technology has advanced leaps and bounds, and smart sensors have emerged as a leading contributor to us becoming more in touch with the technology around us. Smart sensors are essentially simple sensors with embedded intelligence that are changing the way our world works. Let's take a look at how smart sensors are impacting the various industries and our lives.
The measurement and control of machinery and equipment operation have been an important factor since the Industrial Revolution. Since the integration of sensors into our processes, sensor networks or 'smart systems' have become the nervous systems of factories, buildings, homes and many other types of facilities. Sensors have traditionally transmitted analog signals that must be prepared for the next process in their function. This preparation is called 'signal conditioning', which converts one type of electric signal into a signal that is appropriate for processing. Smart sensors make it possible to create a complex network of sensors implemented in IoT (Internet of Things) systems to automate and improve the operation of the products and processes we use daily. But we can even see the results of smart sensors working on the rovers that are exploring Mars today that detect conditions and acquire valuable information for research.
Networks of smart sensors are being implemented in various industries including retail, logistics, agriculture, manufacturing, automobiles and health care. Smart sensors help in supply chain control and product management in retail and logistics by allowing distributors and store owners to accurately manage inventory, transport tracking, and product conditions. Climate control and crop monitoring are made possible by smart sensors in agriculture. Smart sensors can be implemented in industrial manufacturing by streamlining equipment diagnosis and they can be used to make working conditions more safe by monitoring chemical levels and monitoring work space conditions. In the medical field, they also can be used to monitor patient vital signs and provide surveillance of patients and sensitive materials. A combination of smart sensors in an automobile can alert drivers to potential dangers and help to avoid accidents or even assist with parking. All of the data from smart sensors can be monitored centrally and devices or equipment can be automated to react according to information provided by smart sensors. These are just a few of the industrial applications made possible with the advent of smart sensors but there are some ways that these sensors impact out comfort and convenience while improving the efficiency of the devices we use every day.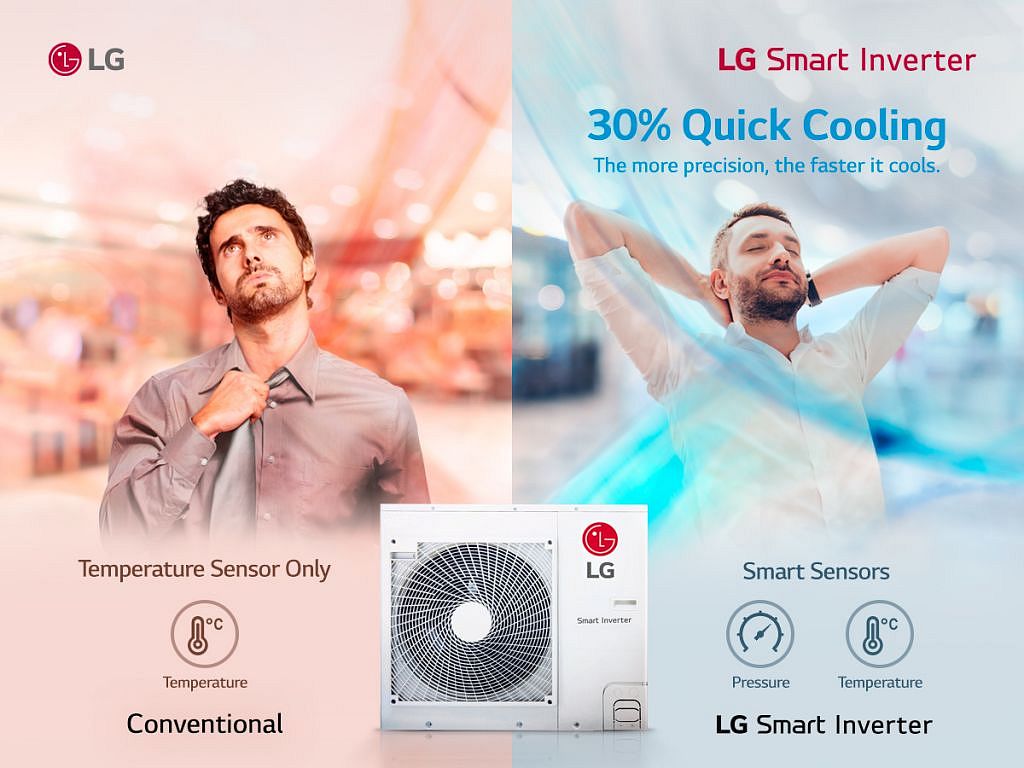 Smart sensors are being embedded in personal devices such as watches and smartphones for applications such as motion detection, health monitoring, and performance enhancement. But there are also examples of smart sensors being applied in homes and building that often go unseen. For example, LG has implemented Dual Sensing and Smart Inverter capabilities with smart sensors in their Multi V 5 and Single CAC systems that improve both comfort and efficiency. A combination of refrigerant temperature and humidity smart sensors allows the Multi V 5 to monitor both the indoor and outdoor environments and in turn optimize performance to deliver improved energy efficiency and increased user comfort. The LG Single CAC is equipped with temperature and pressure Smart Sensors that give it the ability to simultaneously take accurate measurements of the temperature and pressure in order to rapidly and efficiently adjust room temperatures. The comprehensive data provided by the sensors gives the systems the capability to tailor operation depending on the conditions in each individual room of a building through real-time adjustment of airflow. These kinds of smart sensor innovations in household appliances and large systems are revolutionizing many different industries.
As smart sensors are becoming integrated into more and more of the devices that run our society, we are continuing to experience improved performance, efficiency, and convenience throughout our lives. These sensors are responsible for producing and delivering the products we consume and directly impact our well-being and comfort. LG is embracing the implementation of smart sensors to deliver more satisfactory products to their customers. If you haven't already, you will soon be noticing the effects of smart sensors on your daily routine as well.