IFA (Consumer Electronics Unlimited) 2017 was held this year in Berlin on September 1-6 with close to 2,000 exhibitors hosted over 159,000 square meters. IFA is a consumer electronics show held each year that focuses on innovations in digital lifestyle products. LG hosted their booth that demonstrated an array of innovative LG products that are designed to change our lifestyles in unique ways.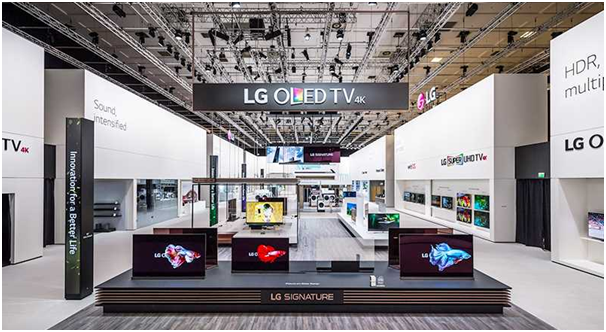 The products presented at LG's booth at IFA 2017 centered around the 4 main concepts of Premium Dining, Premium Built-in Kitchen, Total Clothing Care and Premium Living.
The Premium Living line of products demonstrated how LG can provide comfort and cleanliness throughout any home. The LG DUAL COOL split type air conditioner with inverter compressor cools homes quickly and efficiently with significant noise reduction and the LG PuriCare supplies clean air throughout any space without wasting electricity.
The LG booth also demonstrated how the LG built-in kitchen concept combines refrigerators, dishwashers, ovens, and stovetops to bring families together and allow them to enjoy meals together. A Michelin Star chef was even present to show the capabilities of the premium LG built-in appliances.
Visitors to the LG booth were able to experience a premium line of smart products meant to enhance users' lifestyles. Each of the products provides Wi-Fi connectivity and voice recognition functionality that will help users live a smarter life. The IoT technology and smart home applications of these products were a highlight of the IFA exhibition.
LG's booth at IFA 2017 was a hit with visitors and let them see firsthand the innovations that LG continues to deliver. With more innovations coming in the future and collaborations with Google and Amazon, LG will continue to introduce technology that profoundly impacts our lives for the better.