Starfield Goyang is a theme park shopping mall near Samsong Station in Goyang, Gyeonggi-do. With two stories below and four above ground, this mall has an overall area of 364,000㎡ (135,500㎡ floor space) and holds 560 shopping brands. 30% of the entire property, however, has been allocated for entertainment spaces like Aqua Field, an outdoor pool with a view of Bukhan Mountain and Sports Monster, where visitors can experience a variety of indoor sports, as well as shops selling food and beverages.
The challenge was coming up with cost-effective heating and air-conditioning for such an enormous interior space which consists of different rooms for various purposes including retail shops, a cafeteria, and a large open space. It was also important to make utilizing the heat from the local heating facilities nearby possible.
LG Electronics supplied absorption chillers with refrigeration capacities of 14,720 tons to Starfield Goyang, which has the largest capacity among those provided for commercial buildings in Korea. They can air-condition thirty-seven hundred 99㎡apartments or 50 soccer fields at the same time. For reference, one refrigeration ton is capable of turning one ton of water into ice within 24 hours.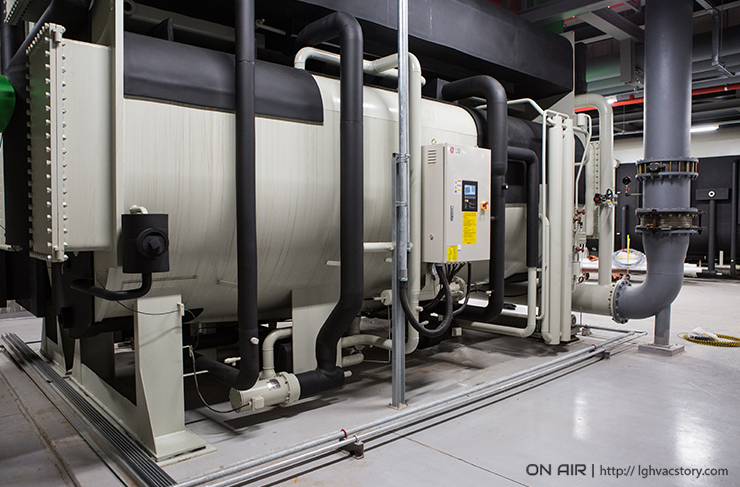 LG Electronics' Eco-Friendly and High Efficiency Chillers
Absorption chillers operate by utilizing the heat created when water is turned into vapor. Water is used as the refrigerant while lithium bromide (Li Br) is used as the absorbent. The lithium bromide in the absorption chillers absorbs the refrigerant, creating a solution of water that needs to be heated in order to be vaporized and then cooled again for circulation. Chillers can be divided into hot-water, fired, and steam chillers according to their heating method.
The absorption chillers provided by LG Electronics are hot-water chillers, which utilize water at 95℃ (210℉) from Ilsan Combined Cycle Power Plant. This water is commonly used for city heating in winter and is considered useless in summer when heating is not required. By utilizing this hot water, which would otherwise be wasted, LG Electronics could provide an eco-friendly and cost-effective solution, which also allows the facility to save about 15% on maintenance cost.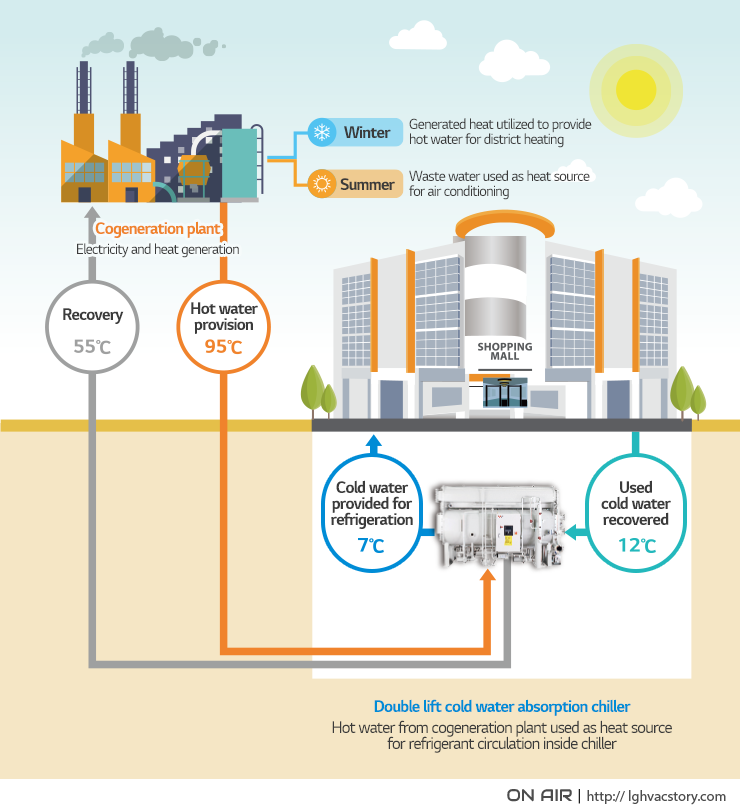 LG Electronics has accumulated their air-solution capabilities over the last 50 years, since the launch of the first Korean-made air conditioner in 1968. Since then, it has been providing not only for domestic buildings like the Southwest Water Recycling Center, Starfield Hanam, and Paradise City, but also to large international B2B HVAC projects including government buildings in Saudi Arabia, King Khalid International Airport, and district power plants in the Middle East and South East Asia.
With those accumulated experiences, LG will continue to lead the B2B HVAC market with the eco-friendly and high-efficiency solutions.