India's population has reached over 1.3 billion and that number is steadily increasing. The growing population and rapid industrialization in the country are contributing to serious health risks to Indian people that will have to be addressed in the near future. These health risks that India is facing are influenced by poor air quality. Poor air quality is cited as a major factor in the high premature death rate in India along with other health issues. However, people in India are beginning to take steps to resolve this problem and LG is poised to make a difference in home air quality with their PuriCare air purifier.
The Real Issue
It is well known that indoor and outdoor air pollution contributes to a wide range of serious diseases including heart disease, pulmonary diseases, the risk of stroke and lung cancer. While there are relatively few studies citing the amount of air pollution in India and the detrimental effects air pollution is having on the Indian people. There are reports showing an increase in deaths from air pollution related diseases in India such as COPD (Chronic Obstructive Pulmonary Disease). While the health of Indian people is most important, there are also serious economic problems that arise due to missed work days and higher welfare costs. There was a 67% increase in 'ozone-attributable deaths' in India between 1990 and 2015, which is much higher than in most countries around the world. The World Bank concluded in a study in 2013 that air pollution may be responsible for a loss of 8% of India's GDP. These detrimental effects on Indian health and economy are taking a serious toll on the Indian people but there is still a long way to go in the Indian government recognizing and taking steps to improve the situation.
Indoor Air Pollution
Indoor air pollution and indoor air quality is a major problem in India and other developing countries as well as countries with high pollution such as China. Carbon dioxide, harmful chemicals and other fine particles classified as PM2.5 (Particulate Matter) and smaller in poorly ventilated spaces are detrimental to health and can be even more harmful than outdoor air pollution. In India, the high use of biomass fuels in the home and cooking practices that create smoke along with poor ventilation in homes creates a harmful environment. Social, cultural and financial factors also all contribute the poor indoor air quality in India. Poor air quality in Indian homes is also found to have particularly detrimental effects on the development of babies and young children. But there is a way to ensure pure air quality in the home.
LG PuriCare Solution
The introduction of air purification systems in the home can go a long way in creating safe living environments for the Indian people. LG offers an air purifier that can supply pure air through the entirety of a home. LG PuriCare delivers 360-degree air purification and provides clean air throughout any space where it is installed. The Clean Booster technology projects clean air to areas far away from the air purifier itself. PuriCare also has independent ducts located lower on the frame of the device to deliver pure air at lower levels, which is good for providing clean air to babies and children. The 6 step total care solution eliminates fine particles and viruses in the air and it also eliminates 6 different types of major air pollutants. PuriCare is easy to use, complete air purification solution that can truly make a difference in the air quality in any home.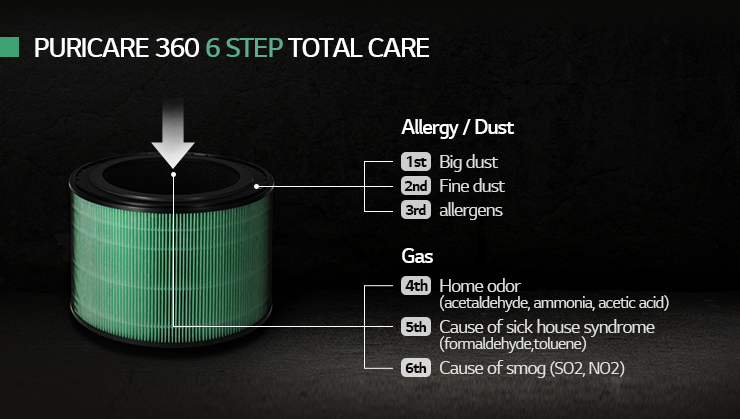 We hope to see the people in India make great strides in reducing air pollution in the country and we want to help make homes in India cleaner and safer with PuriCare!