In recent years, we've seen a significant increase in the level of fine dust particles in the air in different regions throughout the world. Fine dust has been linked to respiratory disease and is particularly harmful to more vulnerable populations such as children and the elderly. While there are efforts being made by regulatory bodies and companies to reduce the emission of these harmful particles into the air, it is vital to protect ourselves from fine dust and contaminants not only outdoors but indoors as well. In order to provide more healthy environments for commercial facilities, LG has released 1-way and 4-way cassette applications with powerful air purification capabilities.
The Dangers of Fine Dust Particles
Fine dust is classified according to the diameter of the dust particles themselves. PM2.5 particles are defines as having a diameter of 2.5μm (micron) or below and PM1.0 particles are defined as having a diameter of 1μm or below. The smaller the fine dust particle, the more capable it is to be absorbed into the lungs and into the blood. These particles contain heavy metals and hydrocarbons that are detrimental to our health. Organizations such as the WHO and UNICEF have reported that as many as 1 in 10 people are exposed to fine dust particle pollutants and the deaths of as many as 130,000 children can be contributed to air pollution. While taking the dangers of fine dust particles into consideration, LG has implemented robust air purification filtering into their 1-way and 4-way cassette units.
Learn more about sources of fine dust and how we can protect ourselves from its many dangers.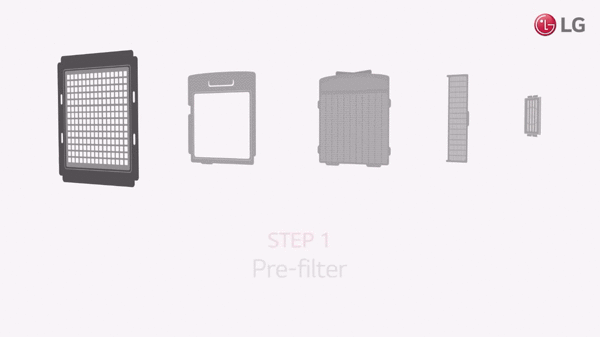 LG's robust 5-step filtration system ensure healthy indoor air quality
LG Clears the Air
LG has implemented a powerful 5-step filtration process to ensure a healthy indoor environment. The 5-step filter kit includes a pre-filter, dust electrification stage, an ultra-fine dust filter, a deodorization filter and an ionizer. The pre-filter has a multi-layer structure that removes larger dust particles. After passing through the pre-filter, the air is treated with dust electrification in the second step, which uses electrostatic force to remove particles thoroughly. In the third step, an ultra-fine dust filter is implemented to remove 99.9% of PM1.0 particles. In the fourth step, the deodorization filter removes odors and harmful gases from the air with gas absorption technology. Finally, an ionizer suppresses bacteria and allergens from proliferating. This comprehensive filtration kit is compact and implemented inside the body of the indoor cassette unit so that the installation of the kit does not impact the overall size of the unit itself. This robust filtration system makes the 1-way and 4-way air purification cassettes ideal for schools and healthcare facilities where people are vulnerable to fine dust pollution as well as in restaurants and retail spaces where there can be a high concentration of people. The filter kit can also be removed for easy cleaning and maintenance. Furthermore, with ThinQ connectivity, the filtration process can be conveniently monitored in real-time from anywhere.
ThinQ connectivity makes real-time air quality monitoring convenient
Providing superior air quality and comfort wherever our products are installed is point of pride for LG. As we continue to innovate new solutions that perform to new standards in the industry, we also continue to ensure healthy environments in line with the requirements of our changing world.