Compressors are vital components that provide cool air to a wide array of products such as air conditioners, refrigerators, water coolers and humidifiers. They are also the core component of motors that go into vacuum cleaners and lawn mowers. You could even consider them to be as vital to these types of products as a heart is to a human or an engine is to a car. Compressors are components that drive the efficiency, noise emission, vibration and durability of the products they go into and determine the performance and longevity of the products as well. At LG, the path that brought us to the forefront of inverter compressor technology wasn't always easy but we continuously strive to ensure our components deliver the cutting-edge solutions that define who we are to the industry. Our inverter compressor technology is at the core of many of our products and the team responsible for developing this technology is the driving force behind our business. We took the opportunity to talk with one of our head developers and hear first-hand what goes into our inverter compressor components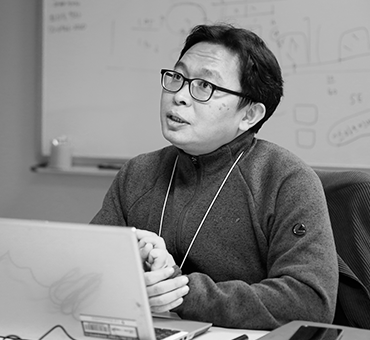 Jong-Yoon Choi
Senior Manager,
Component Solution Product Planning Team,
LG Electronics
Jong-Yoon has worked in the Research Institute at LG since 1997 and has been concentrating on compressor development since 2001. He is now a leader of the Component Solution Product Planning Team.
Let's hear what Jong-Yoon had to say about the inverter compressor development experience at LG:
Please give us a short introduction
I finished graduate school in 1997 and joined LG that same year. After working for 4 years at LG PRI (LG Production Engineering Research Institute), I worked in compressor development from 2001 to 2016 and I have been a leader of the product planning team since 2017.
What has been your main role at LG?
My main responsibilities have been device design, including improving efficiency, mass production design and improving the dependability of products.


What's the main difference between a traditional compressor and the LG Inverter compressor?
In the compressor and motor industry, inverters are already being used and because it is a fiercely competitive market, a company has to keep up with the competition by creating technology that sets them apart. LG's components such as the refrigerator linear compressor, HVAC linear compressor and HVAC scroll compressor are really what set us apart in the market. We are also concentrating on planning for more products that will make us stand out with reciprocating and rotary compressor technology as well.
In what products were the LG inverter compressors first implemented?
In 2004, AC inverter technology was first implemented in our first-generation VRF scroll compressor. After that, the SynRM inverter compressor was implemented in our second-generation VRF solution in 2006 and the high-compression inverter compressor was developed for our third-generation VRF solution. Inverter technology was also added to our linear compressor in 2006, to our rotary compressor in 2008 and to our reciprocating compressor in 2010. LG compressors are also implemented in a wide range of customer products. In fact, 40% of our compressors are actually used as components in products manufactured by our B2B clients.
What was the most difficult product to manage throughout the development process?
All of our products have been difficult to develop at one time or another. If I was pressed to say which was the most difficult, I would have to say the linear compressor and scroll compressor were the biggest challenge. These are the products we are focusing on primarily; however, prioritizing our efforts between the linear and scroll compressors and the reciprocating and rotary compressors has been very tough. The typical development cycle for our compressors is about 1 year and 3 months (3~4 years including development in the R&D lab), during that time, a lot can change and projects can be dropped or altered at any time depending on an array of different factors.
In what other new products will inverter technology be implemented?
Inverter compressors are expanding into other areas such as linear inverter compressors for refrigerators and scroll inverter compressors for air conditioners.

Are there any secrets that you might be able to share with us that only you in the LG Compressor Business Department would know?
Well, it's not really what you would call a secret, but I think that one of the strength of our Component Solutions Business Unit is that since we are simultaneously developing 4 different compressor types (scroll, rotary, reciprocating and linear) together, we are able to take technology implemented in one compressor type and apply it to other compressors and that allows us to remain a leader in the industry. For example, we can apply new plastic materials used in a linear compressor to other compressors, or take data from new refrigerant technology used in refrigerators and apply it to compressors in heat pump dryers.
When talking to developers, are there any things that you would emphasize as most important or rules that should always be followed?
If you think about products that have become global standards, product planning for making product USPs (performance, quality, design etc.) dominant in the market is important, but the most important task is creating market leading products that no one else is creating and that give your company its own identity. Continuous research and understanding of this point is certainly necessary.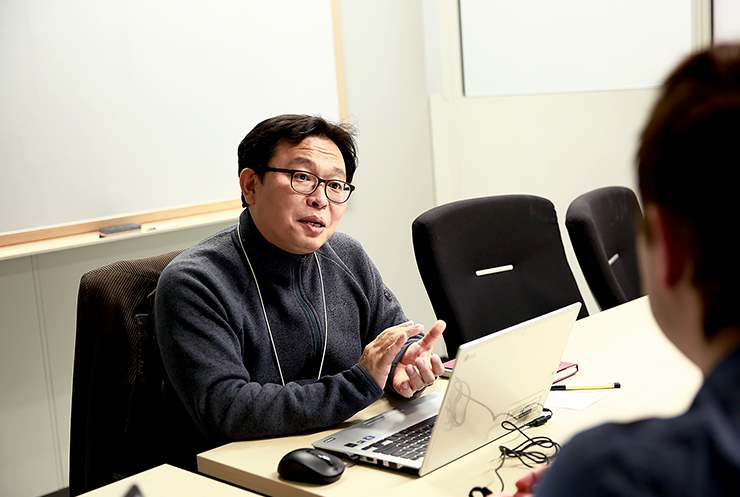 We would like to thank Jong-Yoon Choi for taking the time to talk to us and provide interesting insight in to our inverter compressor technology. The next time you see a product, whether it be a refrigerator, air conditioner, dish washer, washing machine, vacuum or lawn mower, take time to reflect on what goes into making that product one of the top in its class on the market!