Advanced Product Lineup Featuring Integrated Control and Optimal Efficiency to Enable Ultimate User Convenience
MILAN, March 13, 2018 – LG Electronics (LG) showcased its advanced solutions and control systems in heating, ventilation and air conditioning (HVAC) that highlight integrated control and optimal efficiency at Mostra Convegno Expocomfort (MCE) 2018 from March 13-16 in Milan, Italy. In keeping with the exhibition's theme of "The Essence of Comfort," LG displayed a tantalizing lineup of products that bolster user comfort through the latest technologies that enable high efficiency, convenient installation and systematic control.
Converging technology and products, LG aims to provide optimized HVAC solutions considering user needs. The company's cutting-edge technologies and products showcased at its booth reflect LG's strategic approach, and were one of MCE's main attractions. Visitors were able to experience LG's progress in HVAC systems that advance the company's mission of "Innovation for a Better Life."
"To further expand in the European market, LG seeks to offer HVAC solutions optimized for the needs of European users. MCE is the ideal exhibition to introduce our latest solutions that reflect the needs of the European market." said James Lee, Head of Air Solution Sales & Marketing Group. "LG will continue to actively target the European HVAC industry with innovative solutions specifically customized for the market."
LG's booth highlighted residential and commercial HVAC solutions customized for the European region. Especially its comprehensive heating solution lineup including the LG Therma V and the LG Hybrid Multi as well as its locally adapted VRF solution was one of the main attractions.
LG's overall lineup of heating solutions features convenient installation and a considerable upgrade to its performance. The next generation LG Therma V Split delivers a brand-new interface and a slick indoor unit design that increases user convenience. Enhancing its performance by a maximum of 8 percent compared to its predecessor, the solution achieves an impressive A+++ (Erp). The latest LG Therma V Monobloc is an all-in-one concept unit enabling easy installation and high energy efficiency, thanks to its low GWP refrigerant R32.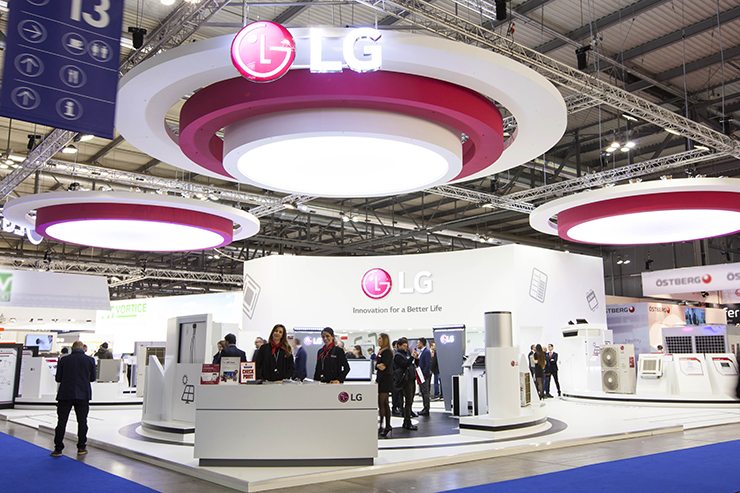 Also on display was the Hybrid Multi, boasting cost-efficiency as the residential integrated solution offers cooling, heating and even hot water to minimize installation costs. Furthermore, the heating lineup provides integrated control of the entire system with the SmartThinQ app. SmartThinQ can be connected to a range of consumer devices from home appliances like refrigerators and washers to RAC products to bring convenient but efficient control.
Leveraging LG's unrivaled VRF technologies, the modular MULTI V M is expected to be effective in targeting the European market. Given that installing outdoor units is difficult due to building regulations and with European buildings being mostly historic or worn-down, implementing VRF systems can be challenging. However, the MULTI V M ensures flexible installation with split units. While the heat exchanger module can be installed in any type of ceiling space without additional structure construction, compressor module can be installed at any place inside such as storage room. In addition, its various functions and parts such as the Smart Load Control and the Wide Louver Plus Fin enhance performance and efficiency. Successfully bringing the best of LG's rotary and scroll inverter compressor into its new compressor, the MULTI V M reduces noise and vibrations while boosting efficiency and reliability.
MCE 2018 saw LG's wide range of HVAC solutions and products in addition to its comprehensive heating solution lineup, such as its integrated energy solution combining solar panels with ESS and utilizing a high efficiency cassette equipped with human detection sensors. We would like to thank everyone who took the opportunity to visit LG Electronics' booth at MCE 2018.