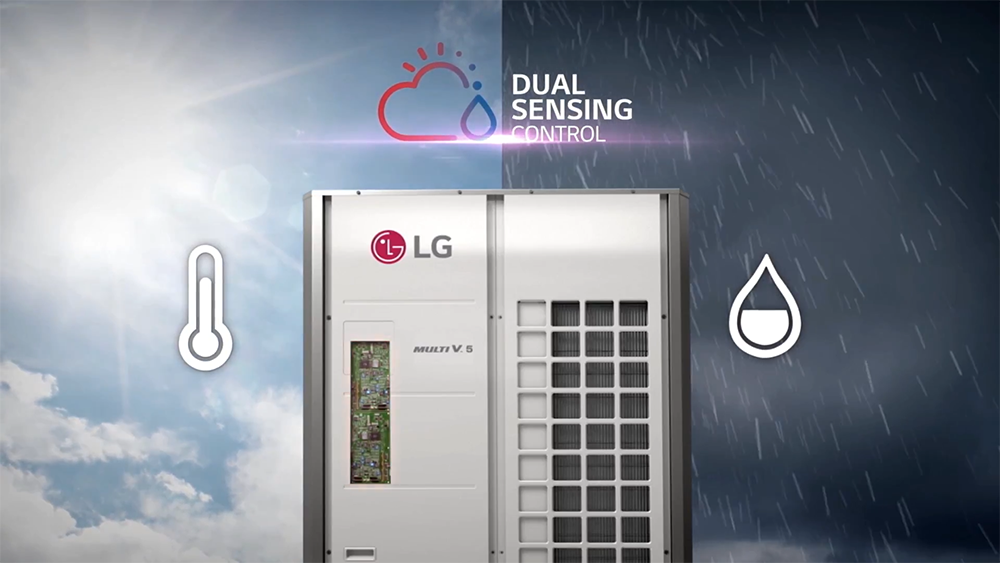 It is our ambition to help our customers get the most out of their HVAC systems, and with the LG Multi V 5, we are now confident that we are accomplishing just that! For us at LG, the Multi V 5 VRF solution with Dual Sensing Control is more than just an HVAC system, it is a symbol of our dedication to innovative and energy efficient technology that provides comfort and convenience to our customers around the world.
We set out to demonstrate the advancements in our technology and the improved performance attained through our commitment to innovation.
Dual Sensing Control at the Core of our new VRF Solution
Our own Dual Sensing Control is one of primary factors that sets the Multi V 5 apart from other VRF solutions. The technology is the first of its kind on the market with simultaneous detection of both temperature and humidity for more efficient management of heating and cooling. Dual Sensing Control maximizes comfort while eliminating overcooling in low humidity and preventing unnecessary energy loss. With this in mind, we wanted to witness the actual results of the Multi V 5 and Dual Sensing Control in action.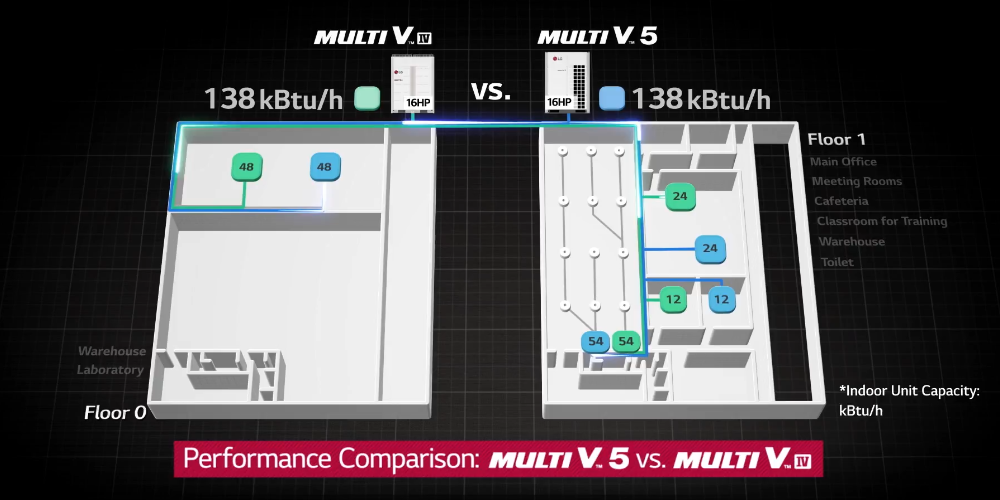 We installed a Multi V 5 and the previous model VRF system for comparison
Putting the Multi V 5 to Test
We set out to demonstrate the innovation behind our Dual Sensing Control and other Multi V 5 technologies by conducting a series of tests comparing the performance of the Multi V 5 and the previous generation VRF solution in a two-story facility in Valencia, Spain. The facility hosts a laboratory on the first floor and office space, a meeting room and a classroom on the second floor. Our goal was to present accurate comparisons of both VRF systems. In order to accomplish this task, we simultaneously installed indoor and outdoor units from both the Multi V 5 and the previous system in separate spaces. We were responsible for the installation of the HVAC units while our R&D lab in Korea monitors the results of the tests. We implemented a PDI system to control and compare energy consumption and used the opening of an IP port to monitor all aspects of the installation. Through these tests, we conclusively established the superior energy efficiency and functionality of the Multi V 5 over our previous VRF systems.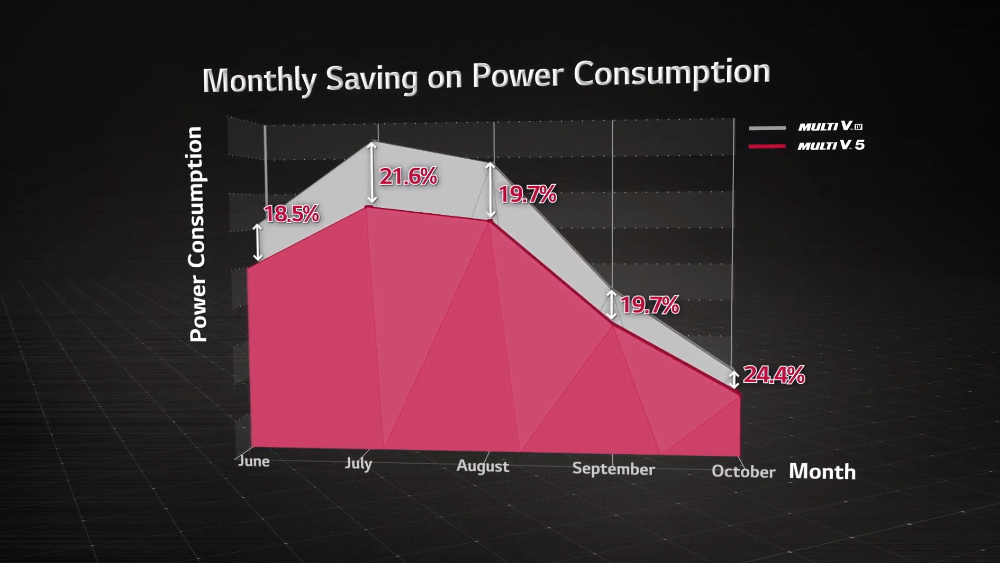 Dual Sensing Control Delivers Savings
Dual Sensing Control truly lived up to the hype with a 20.4% reduction in power consumption. We were also able to show a 36% reduction in power consumption under conditions of 40% humidity or less. With the ability to detect temperature and humidity together, we were able to accurately measure the required heat load between high and low humidity conditions. Refrigerant temperatures were lowered in high humidity conditions to improve overall cooling capacity and refrigerant temperatures were raised in low humidity conditions to prevent overcooling and improve efficiency.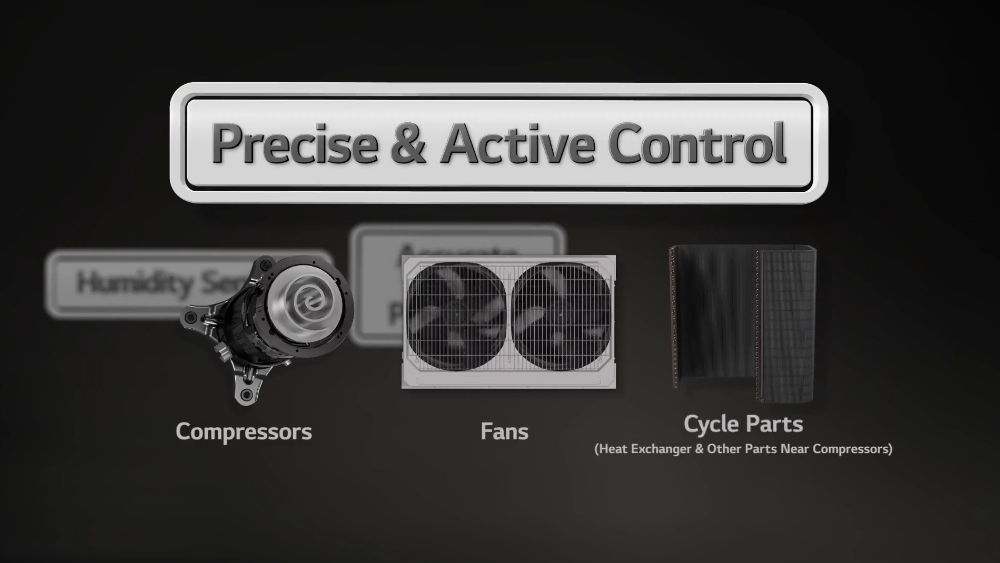 Core Components Deliver Precise Control
The innovative core components in the Multi V 5 make all the difference. The sensors that make Dual Sensing Control possible provide more accurate reading of conditions and factors such as compressors, fans and cycle components (e.g., heat exchangers etc) deliver more precise and active control. But the Multi V 5 is more than just a technical marvel, it also provides unrivaled comfort across environments in any facility. The intuitive sensing capabilities of Dual Sensing Control makes the Multi V 5 a more flexible and comprehensive system for all environmental conditions.
The Multi V 5 is an eco-friendly solution achieving ultimate comfort and system stability in all environments. Dual Sensing Control and other core components make the Multi V 5 a demonstrably advanced solution and a representation of our commitment to quality, innovation and comfort.
To learn more about our tests in Valencia, check out the video below.