Innovative Heating Technology from LG Brings Greater Comfort and Energy Savings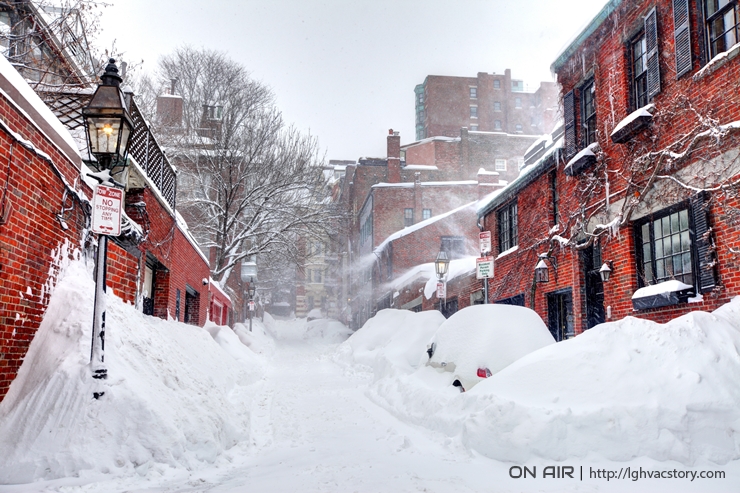 While the snow and ice that come with cold weather can look beautiful as part of a winter landscape, lower temperatures also pose a real threat to property owners. According to the Insurance Information Institute (an industry group) losses from snow, ice and freezing temperatures average about $1.2 billion a year in the United States alone.
In addition, cold weather places increased stress on climate control systems. While there is never a good occasion for central air systems to go quiet, the dead of winter represents perhaps the worst possible time for central heating to suddenly turn off due to the outdoor climate. These periods of inactivity dampen productivity, increase costs, and diminish comfort. This means that stop and start heating systems are not only inconvenient for home or business owners, but also highly inefficient.
The innovative Frost Time Delay, Partial Defrost and Smart Oil Management technologies featured in LG's MULTI V 5 allow for Continuous Heating, increasing overall heating capacity and indoor comfort for users. Continuous Heating reduces unnecessary energy consumption and provides consistent heating in contrast to conventional VRFs which waste energy by frequently stopping and restarting in order to remove internal condensation. These advanced capabilities help the unit achieve improved heating operation time per day while reducing power input.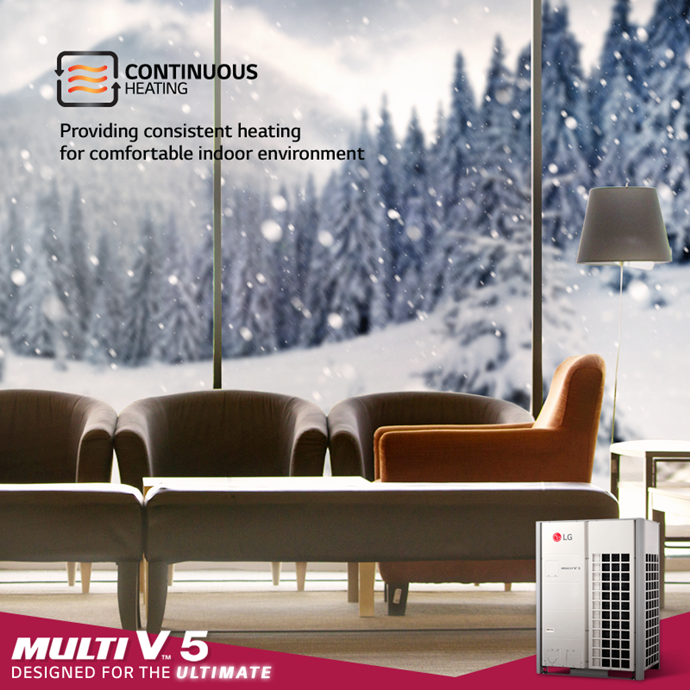 The incredibly accurate monitoring made possible by LG's Dual Sensing Control regulates evaporation temperature by taking both humidity and temperature into account. This represents a significant improvement over systems which only gauge temperature and allows for much more effective climate control. The humidity sensor minimizes frost accumulation by decreasing pressure when evaporation temperature is lower than dew point. This eventually delays the time it takes for frost to form. By applying twice the sensors LG's MULTI V 5 exponentially enhances its power as a heating solution.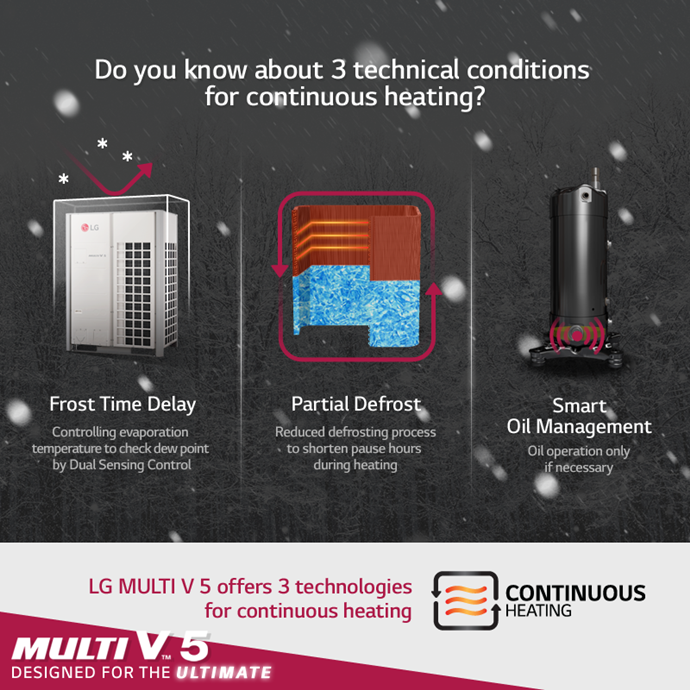 The MULTI V 5 partially defrosts the heat exchanger in order to avoid the potential setbacks caused by defrost-related down time. By dividing the solution into distinct upper and lower chambers, the MULTI V 5 provides consistent heating that raises overall capacity. With the MULTI V 5's divided chambers, users no longer have to worry about the heating suddenly going out without a moment's notice.
The intelligent oil sensors of the Ultimate Inverter Compressor drastically improve oil management. This increases the MULTI V 5's operational efficiency, making it more effective at providing adequate climate control while also reducing energy consumption. By utilizing a smart Ultimate Inverter Compressor, the MULTI V 5 is able to provide enhanced heating without performing unnecessary periodic oil recovery.
These features combine to produce a well-rounded heating solution that meets all the needs of today's users. With each winter seemingly colder than the last, it is crucial that building owners choose VRF solutions capable of providing increased comfort while remaining cost-efficient. The LG MULTI V 5's Continuous Heating capabilities reduce unnecessary energy consumption to deliver energy efficient heating that is both consistent and reliable, meaning that users will be comfortable all winter long.