The majority of HVAC systems in large building are pretty much the same. They typically have thermal centrifugal chillers, absorption chillers or boilers with internal AHU, FCU and VAV used together with an additional cooling tower. Also, ice storage systems that use less expensive night hour electricity are implemented to complete the chiller systems by adding heat storage and ice storage systems. BMS systems are also implemented including building temperature and humidity control and monitoring, comfort control and energy control, but generally speaking, these large scale HVAC systems are very similar.
However, small and medium sized HVAC systems have a much more diverse range of applications that are implemented. These systems can be categorized into central HVAC (water cooled) and individual HVAC (refrigerant cooled) systems. A diverse range of products such as centrifugal chillers, absorption chillers, screw chillers and scroll chillers can also be applied to central HVAC systems and VRF (EHP, GHP) applications are typically applied to individual HVAC systems.
Some of these systems are small and middle sized building optimizing solutions that we will take a look at in this article. These solutions are usually used in central HVAC systems but are also applications that solve issues with systems management and BMS related problems. In the case of central HVAC systems, consumers often have to purchase individual products separately. A chiller must be bought from company A, FCU from company B, AHU from company C, BMS from company D, and vent installation must be done by a construction company or ventilation specialist. In order to manage a project like this, a certain amount of knowledge in the field is also required. For BMS, costs and utilities of simply installing an HVAC system can also be a burden.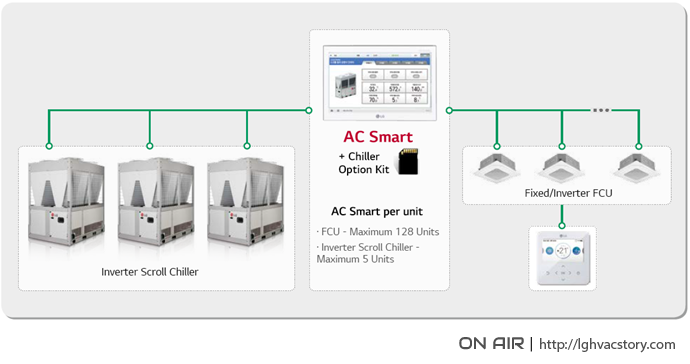 Small and medium sized central HVAC are based on a centralized controller known as AC Smart. This controller has a single screen and can access 5 inverter scroll chillers and 128 FCUs, and can also be connected to external devices (pumps, etc.) when needed. Also, an FCU remote control can operate an FCU and also operate inverter scroll chillers that are connected to the system. This allows the user to operate the chillers without having to go to each individual chiller and operate them from their control screen. Even without special training, an operator can use the AC smart screen to operate a chiller and monitor the system status, and FCU operations in multiple buildings can be monitored from a single screen.
BMS also has a diverse range of functions including systems restrictions, energy monitoring, operations reports, virtual group control and alarm notifications. If an operator wanted to calculate operation costs for each room in a building, they would simply need to add an energy meter to the inverter scroll chiller and use the FCU operations reports to calculate the costs separately.
The most remarkable thing about this is that LG Electronics is the only company that offers all of these systems. There is no longer the need to contact various companies when even the smallest of problems occurs with a system. Simply contact LG Electronics and they have the ability to inspect and repair the entire system.
Written by Jeongjin Choi, LG Electronics