LG's Dynamic New Compressor Reinvents Air Solutions from the Inside Out
A simple look around is all it takes to remind us of how the rapid technological advances of the past several decades have raised quality of life and placed vast amounts of information at our fingertips. However, just as these highly visible changes have impacted almost every aspect of modern life, a number of equally significant innovations have shaped the world around us from just outside public view. Advances in green energy, processor speed, and efficient components may not immediately come to mind when thinking of important breakthroughs, but these technologies have all grown by leaps and bounds in recent years.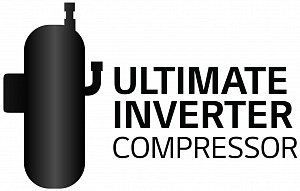 Climate control solutions are an excellent example of a background technology that can operate efficiently for years without receiving so much as a second thought from users. Despite the lack of attention that climate control solutions receive compared to flashier technologies, the industry is a hotbed of innovation. It's the engineers designing the next generation of climate solutions that are tackling big issues like improving quality of life in the developing world and reducing the impact of overpopulation, all while working to create greener technologies that allow more people to experience the benefits of climate control without posing a threat to the environment.
LG Electronics is committed to solving these problems, devoting significant R&D resources to its Air Solution Business Unit in a bid to create more energy-efficient, user friendly climate control solutions. The LG MULTI V 5's new Ultimate Inverter Compressor is LG's 5th generation compressor and represents the serious strides the company has made in improving every aspect of component performance. Offering unrivaled efficiency, reliability and durability, the Ultimate Inverter Compressor expands the 15 to 150 Hz operational range of its predecessor to between 10 Hz and 165 Hz. This enlarged range increases part load efficiency and improves heating performance.
LG has always treated these behind-the-scenes elements with the same degree of importance as more readily apparent technologies. In addition to enhancing external design and usability, LG consistently makes breakthroughs that escape the notice of most users. The MULTI V 5's enhanced bearing system is an excellent example of this principle at work. Layered with PEEK (Polyetheretherketone) – an advanced material normally used in airplane engines, the solution's efficient bearing infrastructure allows it to operate for sustained periods without any oil.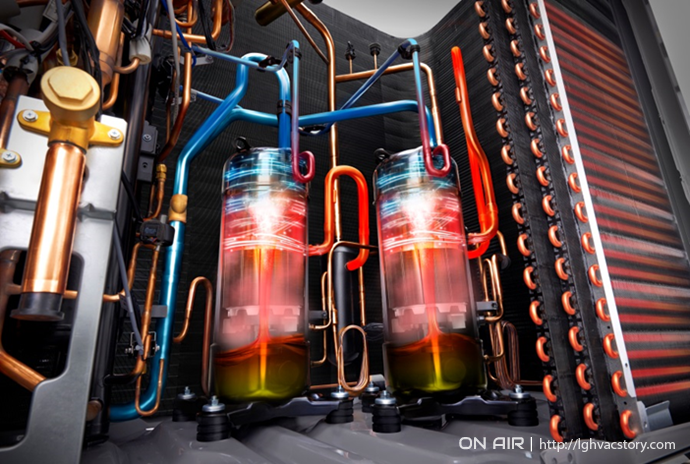 LG's advanced Vapor Injection technology employs an advanced two-stage compression approach to provide efficient heating in extremely cold environments. Working in conjunction with HiPOR™, this system boosts integrated energy efficiency and heating efficiency. In addition to lowering energy expenses and making the MULTI V 5 more eco-friendly, LG's Vapor Injection technology expands overall heating capacity. The sheer number of benefits derived from this innovative technology helps demonstrate how slight differences in internal components can lead to vastly different results.
Designed to boost efficiency, HiPOR™ is an industry-leading technology that drastically reduces compressor energy waste. Problems related to oil return have long plagued HVAC systems, holding solutions back and keeping them from reaching their full potential. HiPOR™ solves this problem by returning oil directly to the compressor, helping resolve one of the most fundamental HVAC inefficiencies. HiPOR™- equipped units see significant boosts to their coefficient of performance (COP), with increases up to 33% compared to Non-HiPOR™ models.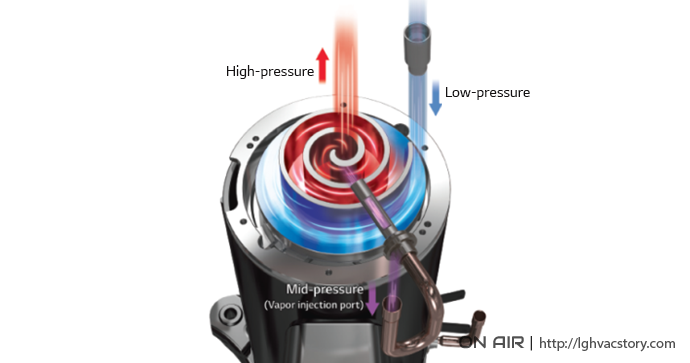 Further decreasing the MULTI V 5's reliance on oil, the Smart Oil Management feature uses sensors to check the compressor's oil balance in real time, minimizing unnecessary oil recovery operation. The power of Smart Oil Return greatly reduces the likelihood of a system shut-down occurring while the MULTI V 5 is actively heating. The advanced system employs oil balancing and return algorithm which works in tandem with the sensor to reduce power consumption. This has the twin effect of simultaneously decreasing energy waste and improving reliability. Real-time measurement of oil in the compressor reduces energy loss, providing consistent heating for the indoor environment. With Smart Oil Return, heating operation time per day has been increased by up to 12% compared to Non-oil sensor models.
The significant R&D resources that LG has committed to the development of the Ultimate Inverter Compressor demonstrate just how seriously the company takes the design of each individual component. By designing each aspect of its system air conditioners with craftsman-like attention, LG has earned its reputation for quality and attention to detail. This commitment to always providing consumers with the absolute best can be seen across LG's entire portfolio, and the innovations that the company pioneers each have an opportunity to shine. Though many consumers will never understand the amount of work that has gone into the design of solutions like the MULTI V 5, LG believes that consistently providing the absolute best is a reward in itself.