Factory Highlights LG's Confidence in the Potential of Chiller Technology
A Groundbreaking New Factory
Unlike ready-made products, chillers are made to order, each individually crafted to meet exact customer requirements. Catering to these specified demands means that a manufacturer's production capacity is a key metric for appraising its commitment to the industry.
The newly completed chiller factory in Pyeongtaek, South Korea, marks a significant step in LG Electronics' drive to increase its presence in the global chiller market. The world-class factory is the latest example of LG's commitment to global competitiveness, built with the intention of manufacturing chillers destined for Central and South America, Middle East and Africa and Asia.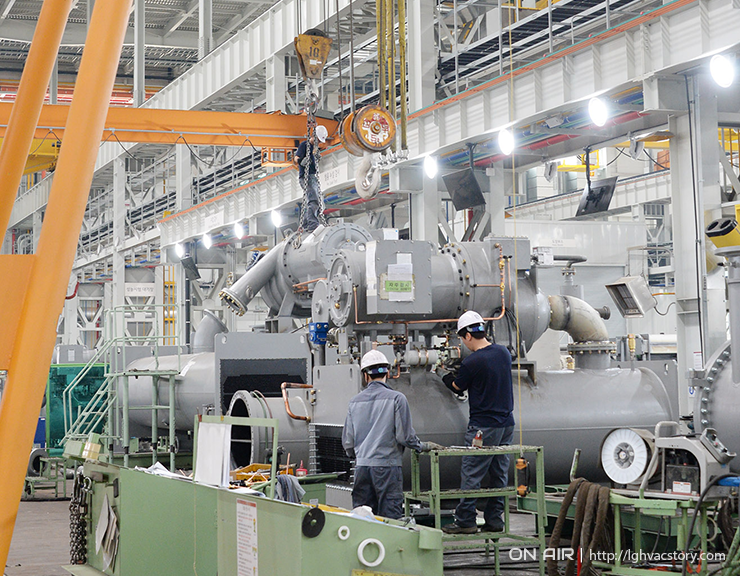 However, the factory is much more than just a symbol. The largest chiller factory in South Korea, the Pyeongtaek plant covers a total area of 148,760 square meters and has a floor space of about 35,213 square meters. This makes the facility roughly 2.5 times larger than LG's previous plant in Jeonju, enhancing the company's ability to meet expanding consumer demand. The facility includes space for offices as well as research and chiller assembly. The primary purpose of the factory is to produce centrifugal chillers, absorption chillers, screw chillers, and scroll chillers. With an annual production capacity of up to 600,000 RT, every aspect of the state-of-the-art plant has been designed to increase productivity and quality, a massive step forward for the company and the industry as a whole.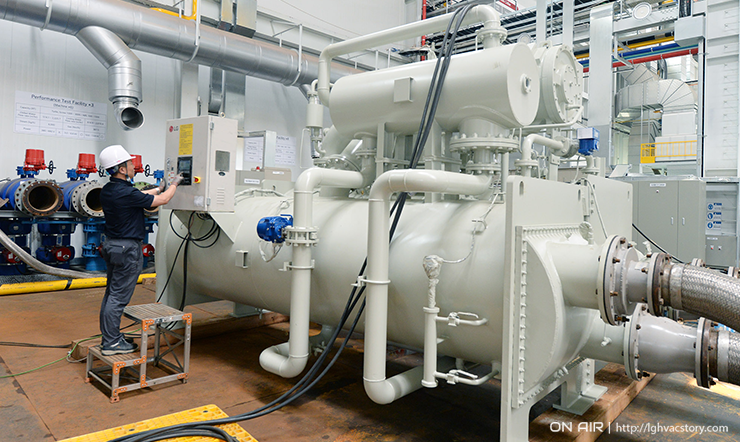 LG Electronics' chillers adhere to strict quality control that begins at the concept and design phase and extends all the way through the entire assembly process. To ensure quality throughout the production process, LG's Pyeongtaek factory has 6 world-class test facilities and is capable of simultaneously conducting AHRI-certified tests of up to 3,000RT.
LG Electronics' Pyeongtaek Chiller factory is the only chiller plant in the world capable of testing the performance of impellers, a core component that circulates refrigerant in the centrifugal chiller.
The factory boasts advanced test facilities for research and development, helping to ensure the performance and reliability of LG's forthcoming chiller products. In the test facilities, which are located close to the production facilities, researchers develop next-generation chiller technologies and key components. They apply new technology to products, experiment with advanced prototypes, and make design breakthroughs through a strict testing regimen. LG's oil-free chiller technology also passes through this research and development facility.
The factory's robotic welding capabilities enable LG to guarantee uniform, high-quality output, and an improved work environment. To optimize automation during the chiller assembly process, LG developed unique components to move and the chillers and operational software for the robot.
LG's standardized production and rigorous performance tests have helped the company's chillers win recognition the world over. The quality and dependability of LG's products have been certified by internationally respected accreditation agencies, such as AHRI, ASME, and ETL. The backing of prominent international organizations serves to demonstrate just how committed LG is to building a reputation for excellence and innovation.
Significant Projects
LG Electronics has made great strides with its recent commercial and industrial projects that center on mid and large-sized chillers, such as centrifugal chillers and absorption chillers. The ultra-modern Hanam Starfield mall in Korea serves as an excellent example of just how effective LG's chillers can be in the right environment.
LG supplied 5 ice thermal storage chillers (5,000RT), 4 centrifugal chillers (3,000RT), 3 absorption chillers (3,000RT), geothermal heat pumps (Total 360RT), air handling units, fan coil equipment, cooling towers as well as the complete system installation at Hanam Starfield. This successful installation has become a leading example of LG's competitiveness, construction capabilities, and project response as well as the potential of its existing refrigeration and air-conditioning product technology.
In addition, LG also supplies centrifugal chillers to the Governmental Agencies Complex in Riyadh, Saudi Arabia. LG is the first Korean company to supply centrifugal chillers for a construction project conducted by the government of Saudi Arabia. The LG Centrifugal Chiller is ideal for providing cold water for large buildings, factories, and commercial complexes. This makes it the perfect HVAC solution for the 900,000 square meter project. Saudi Arabia is known for holding its corporate partners to incredibly high-quality standards, and this contract represents an excellent opportunity for LG to demonstrate the value and effectiveness of its products.
The Future is Bright
LG's Chiller Business Division is accelerating growth by working to secure heightened competitiveness in this globally strategic market by strengthening product efficiency while also expanding distribution and sales through continuous research and development. In particular, the company's new oil-free chillers are an excellent choice for those seeking capable solutions within the non-lubricated chiller market.
Mr. Kamkyu Lee, Head of the Air Solution Business Unit confirmed the company's ambitions by saying, "We intend to strengthen our leadership position in the global B2B air conditioning market by becoming more competitive through the release of differentiated technology based on the company's strong global production infrastructure and distribution network."