LG is hosting a series of global launching events for the release of the new LG Multi V 5 VRF air conditioning system highlighting LG's technological capabilities in the global market
The Multi V 5 is LG's fifth-generation VRF air conditioning system with LG Electronics' very own high-efficiency inverter compressor and the world's first indoor and outdoor unit temperature and humidity sensors.
A large number of project managers, facility managers, system designers and installation specialists are attending the Multi V 5 launching events in 16 countries around the world. For the truly innovative Multi V 5 at the forefront of the industry, LG is going to great lengths to provide events and presentations that match the superior quality of the product. Here are some pictures of from this diverse and unique series of presentations and exhibitions.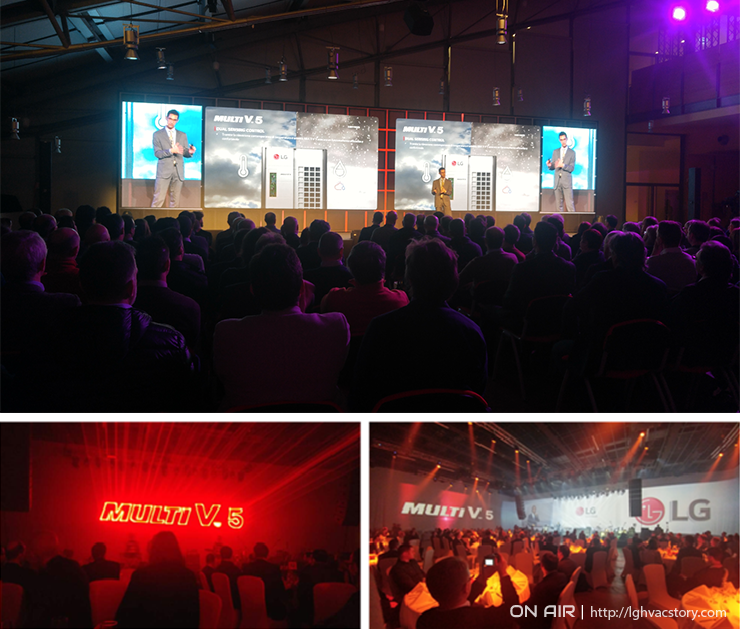 After each of the events, we received many responses via email from attendees who appreciated the efforts we made to assist in the understanding of our products in each country. Guests in each country were able to gain insight into the LG HVAC solution system through programs such as a virtual demonstration of Multi V 5 from Poland that was projected onto a video wall using 7 super-wide-angle projectors, a Facebook Live streaming of the launching event in Brazil, hologram presentations in Vietnam and Morocco.
Also, following the launching events, seminars for hands-on affiliates such as sales representatives, installers and consultants are being held in smaller cities of each country where the events were held. Take a look at the videos below to see what makes these events a first in the industry.
Attendees at the launching event in Spain obtained hands-on experience with products and other activities and had the opportunity learn about the new LG Multi V 5.

Attendees in Poland were treated to a high-end gala centered around the Multi V 5 launch.
The launching even in Vietnam featured brilliant imagery and a virtual demonstration on an impressive video wall.