There are some unique challenges in renovating the HVAC systems of old historic buildings. To add and update modern HVAC systems to those spaces, it is often hard to secure space for equipment and electrical systems. And, above all, it is important to preserve the architectural and aesthetic integrity of a historic building to minimize the impact on the buildings' exterior and interior. LG has successfully met this challenge in India. North Block is a landmark heritage building in New Delhi, where LG has carried out a special project.
Site Information

North Block is a part of Rashtrapati Bhawan, New Delhi, the sprawling residential complex of the President of India. North Block also houses the key offices of Ministry of Home, Ministry of Finance and the others. Ministry of Home is responsible for the internal security of India and it operates 24/7 for 365 days a year. The building was inaugurated in 1931 and it is a landmark heritage building.
Challenge

The existing central air conditioning system in the building needed to be replaced. For the past decade, the focus of the government has been on energy efficiency, and they were interested in replacing a legacy system and individual units with energy-saving VRF technology. However, Due to the building's unique structure as a heritage building, which is over 85 years old, it needed an uncompromised air conditioning solution that wouldn't affect the basic features of the building. Also, since the building has mission-critical offices and houses VVIPs, the access time for the site was a major limitation in the execution of the project.
Solution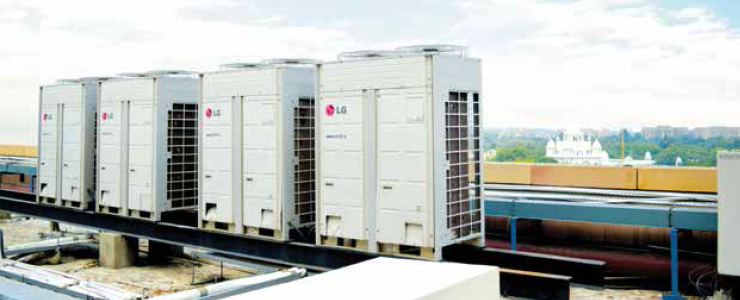 LG MULTI V IV was determined as the best system after analysis of different systems. On the basis of 11-year power consumption estimates, LG was the winner in the competitive bidding where all the major players participated. LG was also projected to be not only fully equipped with the technology but also has the dedicated manpower to deliver solutions to clients.
Mr. Manoj Kumar Pandey, the executive engineer for this project, added, "As far as cost saving is concerned, I can say that the cost per ton is quite reasonable. Since it is inverter-based, I find that the cost saving per ton in power consumption is more than 60% compared to conventional systems. And the project was executed in a lower time compared to other projects using similar technology."