Combining Efficiency and Capacity, LG MULTI V 5 Streamlines Installation to Bring Tangible Benefits to Users and Professionals
A key challenge in today's construction and commercial real estate industries is meeting deadlines to get building and structures up and running on schedule. Time is money, and rapid completion allows businesses to quickly move in and set up shop. Still, meeting the announced opening schedule of a new or renovated building can prove difficult as everything needs to properly work from the get-go, including plumbing and electricity right down to a series of safety checks. The integration of complex modern technologies – such as HVAC systems – is another element that cannot be overlooked.
The installation of HVAC systems involves the loading, transportation, unloading, and installation of bulky, heavy machinery. This lengthy process can result in high demand for air conditioners and long backlogs of sites waiting for system installation. This can lead to tenant complaints and landlord headaches if installation occurs too slowly.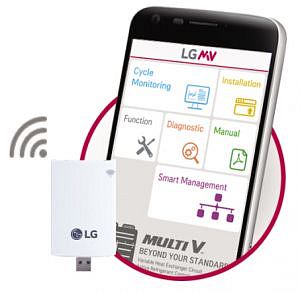 LG's MULTI V 5 is a breath of fresh air for installers. The solution provides up to 26HP for a single unit, with its larger size reducing the number of units needed. This speeds up and simplifies the installation process. For example, say a previous system had a capacity of 48HP through the combination of three outdoor units of 20HP, 18HP and 10HP. The MULTI V 5 can match this capacity with just two outdoor units of 24HP each, saving valuable space. In this way, it is also lightweight and compact, weighing only 620 kg. In contrast, traditional systems can measure up to a combined 768 kg. This streamlined profile simplifies the installation process and makes life easier for installers.
Moreover, the MULTI V 5 provides a piping capacity of up to 1,000 meters, raising the height difference between outdoor and indoor units by 110 meters. Longer piping affords greater installation flexibility for installers and is especially ideal for high-rise buildings.
Highlighting the company's smart leadership, LG's MULTI V 5 is also equipped with the LGMV mobile smart app. This app enables auto-test runs that are fast and accurate. The professional installer doing the testing can receive the test results via email, which greatly shortens installation time and raises the overall efficiency of the installation process. Similarly, the refrigerant diagnostic solution conducts regular checks of refrigerant levels as well as automatic refills when necessary. Installers no longer need to perform setup through use of the DIP switch for an outdoor unit. Settings can now be simply managed via the handy mobile app.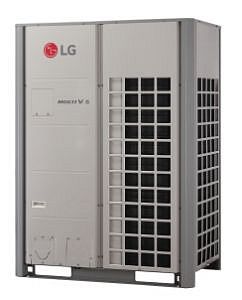 It is also important to remember that installation is not the end of the story. Proper maintenance is required from the moment of installation and throughout the system's entire lifespan. Ease of maintenance and troubleshooting are other factors to consider. Because most users aren't technicians, it is crucial that installed systems make it easy and convenient to solve problems as soon as they arise.
Advanced smart management options of the combined units allow for regular checks of test run history and black box updates. By increasing automation, this system drastically reduces the need for control. Simplified monitoring also makes it easier for users to catch glitches or other issues whenever they occur.
LG has a well-documented history of making technology that puts the clients first. However, the company's prioritization of users has also resulted in significant breakthroughs that benefit installers and maintenance professionals. The LG MULTI V 5 is the latest example of a cutting-edge solution that makes things easier for clients, support staff, and installers. Convenience is not a zero-sum game, and technologies designed to benefit users can also have a profound impact on the way technicians work. By bringing tangible benefits to clients and professionals, the MULTI V 5 shows the true reach of next-generation technology.