Winter is upon us and for most of us, the coldest months are yet to come. Keeping homes, offices, hotels or shopping centers warm during the frosty winter can be a challenge and a strain on our wallets. LG offers innovative and efficient heating solutions that keep us cozy and warm through the bitter cold. Here are some solutions from LG that can provide efficient heating this winter and for winters to come.
Therma V

Therma V is a air-to-water heat pump solution that provides hot water for radiators, underfloor-heating and domestic use. The 9kW 12kW, 14kW or 16kW solutions can be implemented in new building developments or retrofit to provide competitive COP values for a cost and energy efficient source of heat. The inverter technology in Therma V delivers a more fuel-efficient offering that does not burn fossil fuels or emit CO2 and uses LG's innovative heat pump technology for more efficient heating than electric heaters. LG inverter technology is the core strength of Therma V and provides an economical, efficient and powerful heating solution for the home.
Heat Pumps
 Multi V Heat Recovery
The Multi V 5 is LG's state-of-the-art flagship VRF air conditioning system that performs both heating and cooling simultaneously. The solution is ideal for shopping centers or hotels with guest rooms on multiple floors and unique spaces create for a wide range of uses. The Multi V 5 Heat Recovery system provides efficient heating and cooling, reduced operational costs, no need for duct work, increased comfort across diverse individual spaces and a sleek form factor for maintaining the integrity of a building's architecture and design. When implemented with the Hydro Kit, the Multi V Heat Recovery system is able to provide an efficient source of hot water for applications such as radiators, spas and underfloor-heating.
Hydro Kit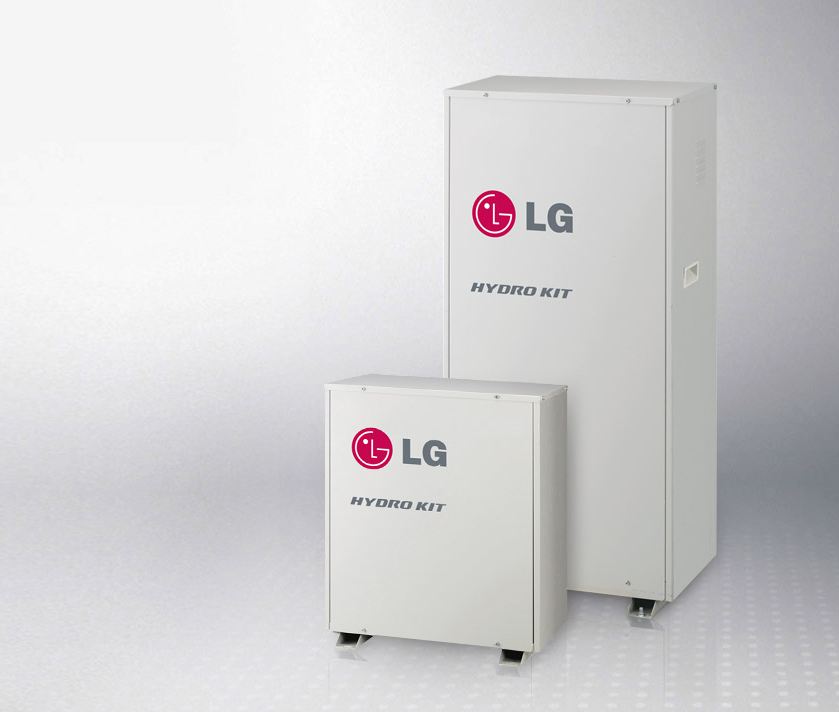 The LG Hydro Kit works similarly to the Therma V and is an efficient method of recovering larger volumes of waste heat from LG Multi V VRF air conditioning systems for hot water supply to applications in places such as kitchens, bathrooms or radiators. The heat pump in the Hydro Kit extracts heat from heat pumps in Multi V or Heat Recovery Systems and redirects the heat using less energy than a gas boiler while eliminating CO2 emissions and external exhaust. The Hydro Kit is compact, easy to install and requires no additional routing or piping for exhaust. The solution can also be fitted to multiple heat pumps for even greater savings.
GHP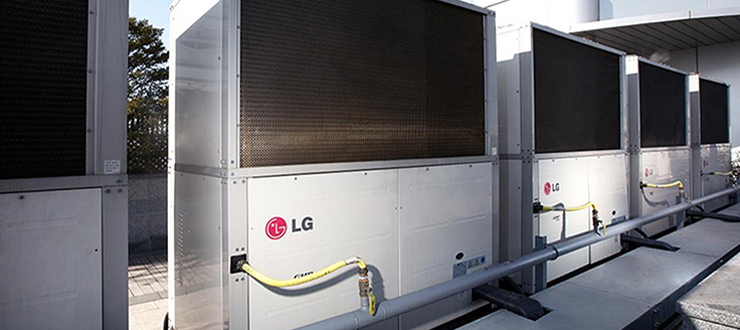 LG GHP is a VRF system driven by a gas engine suited for developments where gas is economically viable and convenient power source and eliminates the need for expensive electricity supply systems. The system boasts a powerful and efficient engine that reduces gas consumption and reduces CO2 emissions. LG GHP offers a powerful heating solution without degradation of efficiency in even the coldest of environments.
Absorption Chiller Heating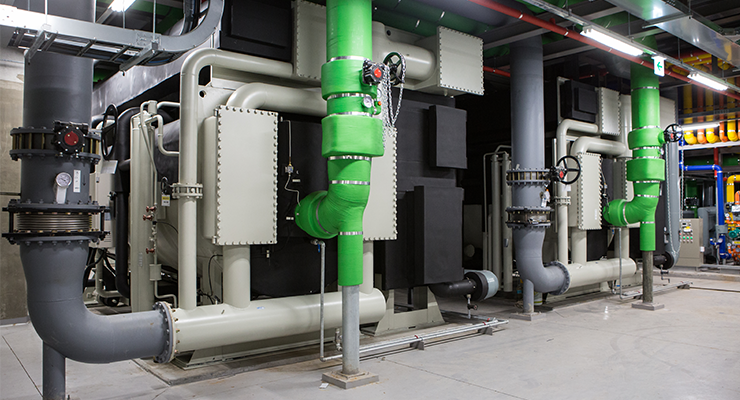 LG absorption chillers provide competitive COP ratios with a high performance heat transfer tube that reduces heat loss. The solution is ideal for large buildings using gas as an energy source and works well to provide an efficient source of hot water to boiler systems. When implementing an absorption chiller system, overall capacity can be improved with an advanced absorption pump and innovative inverter technology control.