Over time, the word 'digital' has become quite a familiar term and is now being used in almost every industry. There are a number of keywords in the field, but one term we are hearing more often these days seems to be 'Digital Transformation'.
Digital Transformation refers to a change through which corporate work environments as well as people's behaviors and experiences become digitalized. But what technologies should companies pay most attention to in order to keep pace with this trend? Each year, Dell shares a list of IT trends that are predicted to make headlines. Let's have a look at their list for 2017.
Prediction 1.   Immersive Technology Goes Mainstream
Dell predicts that innovative technologies are going to be used in more diverse fields this year. For example, architecture-related workers will be able to see what their actual construction projects will look like through life-sized models. Touch screens are another great example of innovative technology. These days, children feel more comfortable using touch screens than a mouse when drawing on a computer. Many actually wonder why one would have to use a mouse at all when there are touch screens available.
Prediction 2. Augmented Reality and Virtual Reality Come to the Fore
According to a Future Workforce Study
published by Dell and Intel, 67% of those who participated in the survey responded that they expect to use AR and VR devices for work in the future. Pokémon GO, which has been one of the most popular games since last year is also AR-based. Microsoft research stated that since the launch of Pokémon GO, its U.S. users have walked 144 billion steps already. This is the equivalent of making a round trip journey between the earth and moon 143 times on foot. AR and VR content will soon go beyond the realm of games and become more common in other areas.
Prediction 3. 5K and More
Some of us may feel like FHD and UHD (4K) have only just been introduced, but the age of 5K (5120×2880) resolution is expected to begin this year. Since 5K resolution is much higher than 4k UHD (3840×2160), which is already known for its great high-definition quality, our TV screens are about to become even more vivid.
Prediction 4. Chief IoT Officer
Many companies have a CDO (Chief Digital Officer), who leads growth by digitalizing analog business methods from the past. Soon, there will be a new position called chief IoT (Internet of Things) officer, who will take the crucial role of extending business efficiency within the IoT system where devices are connected to each other. The IoT wave which seems to be expanding around the globe is now creating new organizational positions.
Prediction 5. The Era of Intelligent Machines
Thanks to advancements in machine learning technology, it has become possible to predict the future by analyzing large amounts of data. Soon, machines will be able to analyze their own weaknesses and fix themselves using self-healing functions. An IT market research company, IDC, predicted that 20% of all operations will be able to self-heal and learn by 2020. Companies can now be more strategic with their human resources, since they can place high quality staff on more challenging IT projects instead of wasting their abilities on simple tasks.
Case Study- LG HVAC Intelligent Machine
HVAC services are also advancing their analysis using large amounts of data, and BECON Cloud is an example of this. High-quality maintenance services are crucial when providing high-capacity HVAC equipment which can be quite costly. For this reason, LG HVAC developed BECON Cloud, which systematically analyzes its energy efficiency through collected data and performs equipment diagnosis.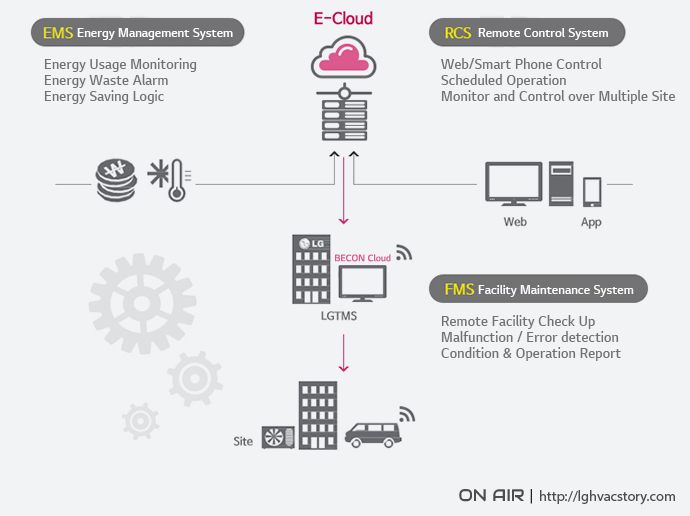 Using BECON Cloud, each client can view reports that show the exact source of efficiency losses. One can see which parameters are out of their normal range and diagnose problems in order to repair a system in a timely matter.
The wattage data and equipment (especially with indoor units) operative condition can be compared as well, in order to check HVAC energy efficiency and consult clients based on this diagnosis. Moreover, the simulation function forecasts optimal energy management strategies for the near future and adjusts accordingly. This smart solution will give you insights for the future.
Prediction 6. Machine Perception
Machine perception seems to still be in the spotlight this year. According to MIT researchers who study human behavioral predictions reported that machine perception will gain insight through a large amount of data and assist in a new industrial revolution. Machine perception will become especially crucial in the medical field, in which it is capable of giving accurate and more affordable diagnosis.
Prediction 7. HVAC (Heating, Ventilation and Air Conditioning) Security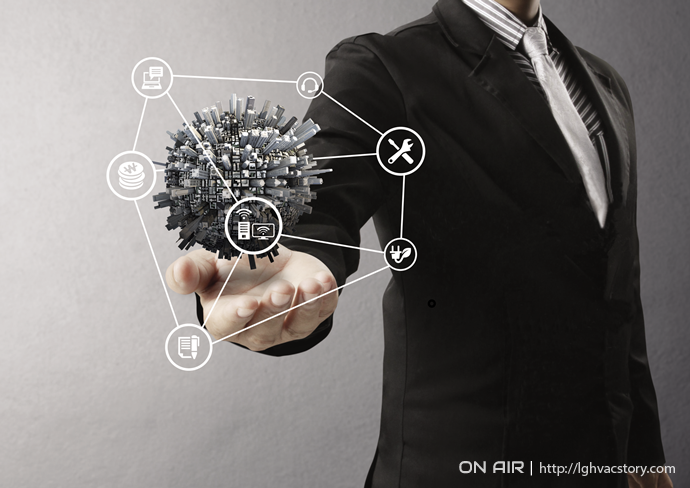 Dell's last prediction was about the HVAC industry. In "the era of hyper-connectivity", all devices with an IP address may become susceptible to hacking. Lately, intelligent building systems which are designed to efficiently manage buildings are drawing attention, but the HVAC networks which are crucial to these systems can also be hacked.
Actually the HVAC system at Target was hacked in 2013, and data on over 100 million users was leaked. It is time for both HVAC infrastructure and data security to take it up a notch in order to prevent these incidents.
Case Study- LG HVAC Server Security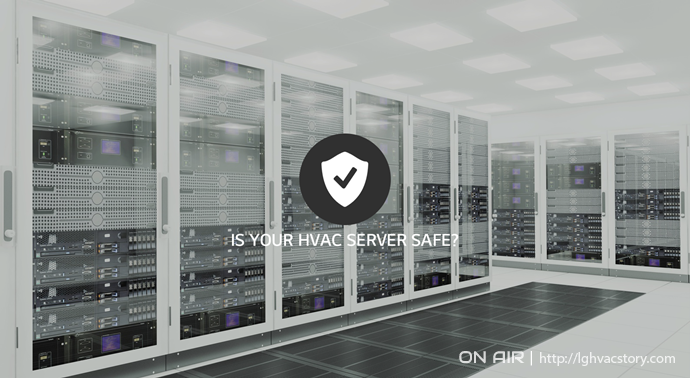 BECON Cloud, mentioned earlier, also has a strict security system. Commands from the outside web/mobile control are sent to a central controller, and once the data being transmitted or received is leaked, it can be abused by hackers. In order to prevent this, LG HVAC encrypted packets through an AES 128bit algorithm.
BECON Cloud consists of multiple organically interlocked servers, each with their own purpose. Servers are protected with firewalls so that even if one of the servers is exposed to access from the outside, other servers can remain safe (currently only access from within the LG R&D Campus is granted).
Another well-known method of attack is to input a free route and enter an error page on purpose in order to get server information. To prevent this type of attack, BECON Cloud displays a different error page when accessed through an unauthorized route.
Digital transformation has become a trend for all leading companies to take notice, and it is expected to dramatically change the global economy as well.