In any HVAC system, the heat pump is the foundation of the system's operation. When most of us think of a heat pump motor, we think of an electric powered motor that compresses liquefied refrigerant to vaporize it and supply cold air. There are many types of compressors used in different types of HVAC systems but the basic concept is the same. But there are some systems that use an energy source other than electricity.

Generally speaking, gas is used as a fuel for heating, cooking or to power automobile engines. There are also several ways to implement gas as a fuel for HVAC systems and one of these ways is similar to the way gas is used to power a car. A car engine uses gas to generate rotary power and this same type of gas-generated power can be implemented in a compressor to create gas-powered air conditioning. HVAC systems that implement this method are known as GHP (Gas Heat Pump) systems.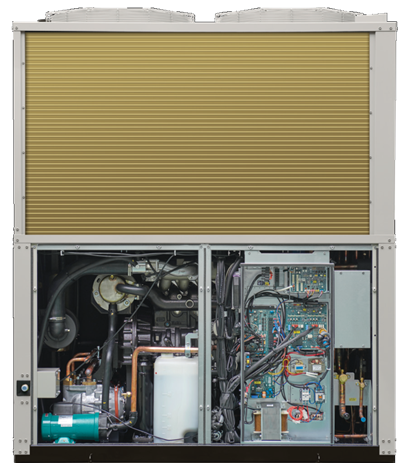 One type of HVAC system is a VRF (Variable Refrigerant Flow) system. Most systems in small and medium sized buildings today use electric powered compressors located outside to supply liquefied refrigerant to indoor units and each of the indoor units operate independently. These systems implement inverters to regulate the amount of refrigerant that is compressed according to the amount required by each indoor unit. The systems can also provide heating.

GHP systems function on the same premise as VRF systems. In a VRF system, a gas engine is used instead of an electric motor and a compressor supplies rotary power to compress the refrigerant and cool or heat the building.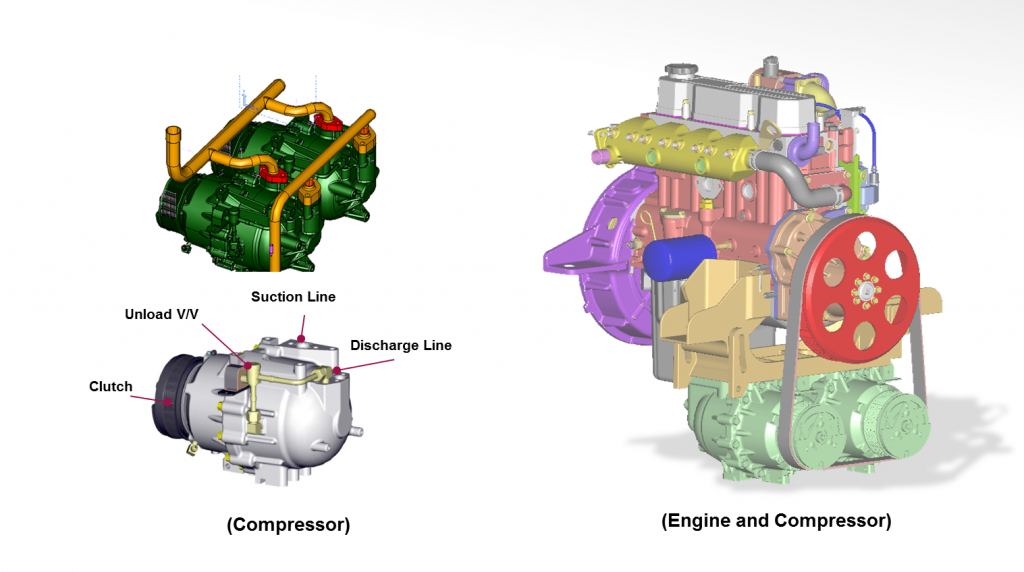 [columns_row margin_top="0px" margin_bottom="0px"]
[column size="one_half" last="no"]
■ Compressor: Open scroll compressor (4 level capacity) – Capacity control bypass V/V implementation
[/column]
[column size="one_half" last="no"]
■ Engine: 2,600cc, 4 stroke GHP – Transmission: The compressor clutch and engine are connected via a pulley and the compressor is run by the engine / – Compressor RPMs can be controlled by adjusting the engine RPMs (800~2000RPM)
[/column]
[/columns_row]


Depending on the country or region, high electricity rates can occur and high costs can be a major problem. In the case of a country like Korea, electricity is generated through various methods including nuclear power, thermal power, hydropower, wind power and solar power. Typically, nuclear power generates the majority of the electricity but in the peak summer season, thermal power takes on a heavier load of producing electricity. The national system is continuing to generate thermal power in order to keep up with the increasing peak season demand and the Korean government is developing new policies to address the high electricity demands.
One example of how Korea is dealing with the high electricity demands during peak seasons is to implement ice storage cooling systems, which typically use electricity overnight to generate ice that is used to cool buildings during the day, or gas-powered HVAC systems. Implementing these types of systems can reduce peak electricity demands and decrease electricity costs for customers. This is merely a snapshot of the situation in Korea but these systems are also an attractive option in other regions as well.
Around the world, there are many places where the gas is readily available but the infrastructure for supplying electricity has not been fully developed. In these cases, a large amount of investment and a lot of time is required to develop the infrastructure but the gas supply infrastructure is available and gas can be supplied at low cost. GHP systems provide alluring advantages when compared to electric powered systems when gas energy is inexpensive and readily available. We can expect to see more GHP systems implemented across the globe in the near future.