According to UN APCC, the air in cities is 5℃(41℉) to 9℃(48.2℉) warmer compared to in rural areas, and the temperature difference becomes even greater in summer. This phenomenon is called the urban heat island effect. Over 60% of an average city is covered by roofs and roads, which absorb 80% of the sun's heat.
A few years ago, the Cool Roof Project launched in Europe to deal with this issue. The project first began after news reports aired about low-income senior citizens dying in their old brick homes during a heat wave in 2010. These days, Green Building Certification recognizes how important it is to build rooftops properly, and promotes cool roofs with a rooftop implementation standard within its evaluation.
A non-profit educational organization called CRRC (Cool Roof Rating Council) is also working to introduce cool roofs to more homes. CRRC scores roofing materials to help people choose what's most suitable for their homes. The criterion used to score materials is called SRI (Solar Reflectance Index). This index rates a material's ability to reflect sunlight and prevent a building from accumulating more heat. Cool roofs can be divided into white roofs and green roofs. Let's have a look at white roofs first.
White Roofs save Energy and Green House Gases
The white roof project aims to paint rooftops with high SRI paints to increase energy efficiency. These paints generally consist of bights colors. It is well know that light colors tend to reflect sunlight and heat while dark colors absorb them.


According to whiteroof.org, every 100ft2 (9.3㎡) of a white roof saves one ton of greenhouse gases. If 80% of all commercial buildings in the U.S. were covered with white roofs, 7 trillion 35 million dollars-worth of air-conditioning energy and 6.2 million tons of greenhouse gases would be saved.
A town with bright-colored roofs would probably look like a village in Greece. Greek villages with buildings painted white is understandable considering the strong Mediterranean sunlight. White roofs would be especially efficient in tropical regions.
Across the U.S. Federal Government
In July of 2010, the U.S. Department of Energy announced that they were going to implement cool roofs on all DOE facilities and government buildings across the country. This was because implementing cool roofs would require less insulation and would therefore cost much less compared to replacing old roofs. We can see that cool roofs are even cost-effective. (Related Video:
https://youtu.be/q0GKcdgxHsk
)
'Green Roof' Enhancing Energy Efficiency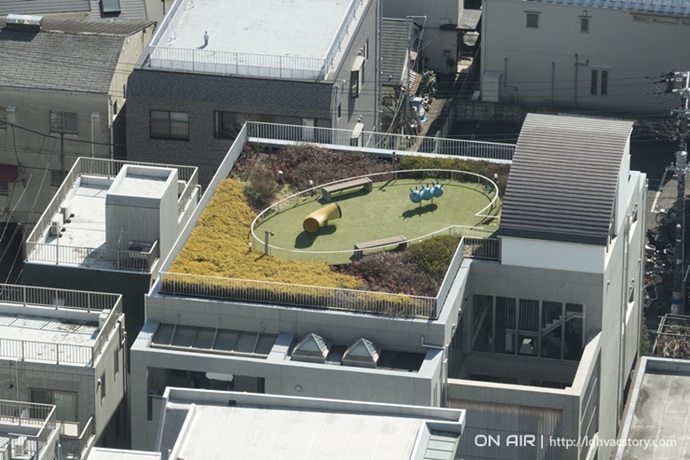 Now let's move on to green roofs. These are rooftops with multi-layered waterproof floors and drain pipes that can be covered with dirt, so that shrubs and/or trees can be planted. Rooftop plants can reduce air-conditioning/heating costs by up to 60% since they enhance insulation and maximize energy efficiency by reflecting sunlight.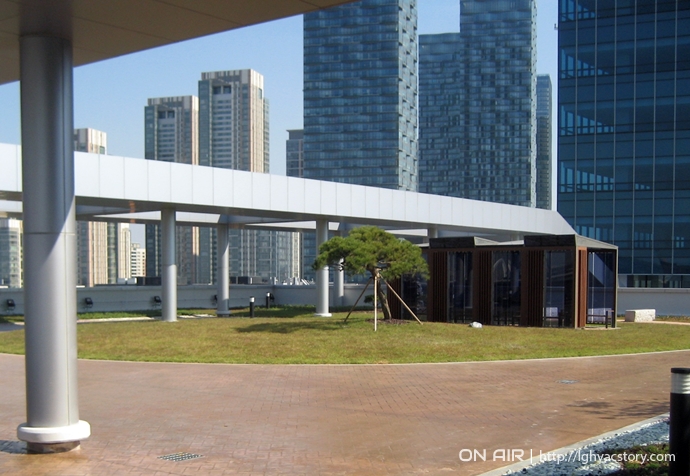 Green plants also help the environment by absorbing carbon dioxide and producing fresh air, while providing shelter for birds struggling to find places to inhabit in urban regions. The downside of green roofs is that they can increase humidity levels and also require regular maintenance. Arlington County in Virginia, for example, runs a program which covers part of the installation and maintenance costs for homeowners interested in green roofs for this reason.

ACROS Building in Japan
The picture above is the Acros building, an art space in Fukuoka with a green roof. It has so many trees, one may even mistake it for a small park. The architecture creates a natural green that matches the adjacent Tenjin Chuo Park. The greenery is 5,400㎡ large, one of the largest rooftop installations in Japan. It is considered an alternative urban and ecological space which combines artistic creativity and ecological ideas.

There are also cases where simple rooftop gardening turned into actual farming. A Japanese brewery well-known for good sake, for example, grows rice on their rooftop. They produce 50 bottles of sake annually with the crops from their roof, while preventing the heat island effect.

Unlike the concrete part of their roof which gets up to 50℃ (122℉), the part which is covered by the rice plants reaches only about 27-28℃ (80.6℉-82.4℉). Other companies grow rice on their rooftops and even feed their employees at their company cafeterias with it. As we can see, green roofs show that a simple change can affect multiple parts of our lives including the environment and our food sources.

Today, we had a chance to learn about cool roof ideas that can help cool down the Earth. The efficacy of cool roofs is being mentioned globally, and there are multiple projects to implement this idea around the world. I look forward to seeing more rooftop campaigns that will enhance energy efficiency and help reduce the heat island effect.