One of the most valuable assets in which a building manager can invest is a BMS (Building Management System) that is fully integrated with the building itself. Over the past 20 to 30 years, the BMS (Building Management System) industry has made great advancements and given us the ability to manage a building with fully integrated control. BMS solutions provide centralized control for visitor management, security, surveillance, power management, energy conservation control, LG HVAC Control Solution and an array of other systems control functions. One of these systems controls, an HVAC Control Solution is the most complex and arguably the most important element in a BMS. LG HVAC Control Solution delivers comprehensive integrated management of HVAC systems that benefit both building managers and building occupants alike.
WHAT IS A BMS
A BMS is a computer-based control system installed in buildings that controls and monitors the building's mechanical and electrical equipment such as ventilation, lighting, power systems, fire systems, and security systems.
An HVAC Control Solution encompasses a large percentage of a building's power consumption and having the HVAC system integrated into the BMS of a building is crucial to the building's efficiency and the comfort of those in the building as well. LG HVAC Control Solution can be integrated into various types of buildings such as schools, healthcare facilities, historic buildings, hotels and shopping malls. But first, let's learn more about what LG HVAC Control Solution can do and the value they add to a building.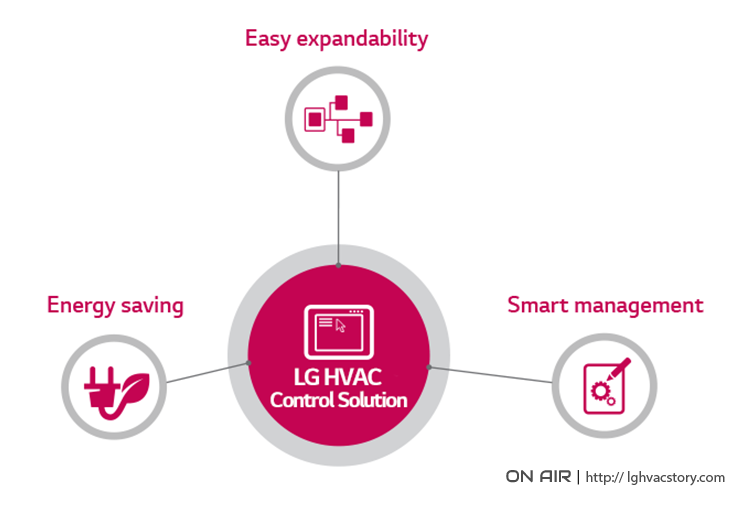 Energy Saving
HVAC control is extremely important in a building for many reasons. Efficient and effective LG HVAC Control solution can reduce energy consumption and energy costs by controlling the amount of energy expended depending on the demands of a building type or specific area in a building. Centralized control and energy consumption data reporting provide precise management of accumulated energy consumption. Also, functions such as energy navigation allow the system set monthly energy consumption targets based on data compiled from previous months and energy can be conserved by the system adjusting usage based on the energy usage targets. Scheduling functionality of LG HVAC Control Solution brings complete and convenient control of the air conditioning system by allowing users to manage operation of the system according to their desired schedule. Detailed plans can be set for daily, weekly or monthly operations and schedule calendars are fully customizable. Time limit control lets the user configure detailed running times for individual units to improve efficiency even further.
With Peak control, the system manager can directly limit system operation according to energy management plans and the system can automatically alternate system units depending on set priority levels. Technology such as the Inverter Compressor in LG HVAC solutions can further reduce costs by only running at the required capacity to cool or heat a room to the designated temperature and this functionality can be customized throughout all areas or rooms of a building. These systems deliver comfortable airflow and can improve air quality as well. Auto changeover functions let the user easily manage room temperatures while switching between heating and cooling modes from a remote control or central controller. A system can also be set to alternate between occupied and unoccupied modes to maintain comfortable temperatures while a room or space is unoccupied without the space becoming too cold or hot. All the information in an LG HVAC control solution can be compiled and analyzed to better manage the efficiency of a building and provide improved comfort to its occupants.
Smart Management
Comfort and convenience play a major factor in the effectiveness of an HVAC control solution. Visual navigation provides comprehensive views across floor plans that make locating, monitoring and management of individual units or areas within a building easy and convenient. Full system reporting can be verified from one central location delivering valuable data such as operation time, power consumption for individual units and error reports. Daily system reports can also be generated with a simple click of the mouse. LG AC Manager 5 also provides centralized clustered management of multiple facilities for more streamlined and efficient operation. This functionality makes system management easy and convenient while keeping rooms and spaces at optimal temperatures all year round.
Easy Expandability
LG provides a BMS gateway, which integrates LG HVAC solutions with BMS operations, and GUI interface that delivers efficient control of systems and equipment in the HVAC control solutions from a single PC. With Facilities control, the user can control and monitor all systems units as well as external devices associated with the units. Units can then be configured to turn on and off or adjust airflow through triggers such as occupancy sensors, emergency switch or timers. Additional units or equipment can be added to the system when needed and the system can easily be reconfigured from a centralized controller. Integrated management of LG HVAC Control Solution links operations of LG air conditioners with external systems for expanded coverage.
As we can see, a fully integrated LG HVAC control solution consolidates the monitoring and control of a building's environment, which makes it easier to manage, more efficient and more comfortable. Centralized HVAC monitoring and control can reduce a major portion of a building's energy consumption and costs, make building management more convenient and encompass all elements related to air conditioning in a building. But how can an HVAC system tailor to complex differences in unique building types? Keep an eye out for upcoming posts relating to LG HVAC solutions in different complex spaces.