Every year on June 5th, World Environment Day is celebrated in cities around the world. This has been taking place since 1987 with a new slogan being chosen each year. This year's slogan is "Connecting people to nature." Today's posting will give you a glimpse into what happened at LG for 2017's World Environment Day.
LG's 24-Hour Environmental Protection Relay
LG Electronics designated World Environment Day its global volunteering day in 2010, and has been taking part in eco-friendly activities in alliance with the annual campaign from the UN Environment Programme (UNEP) since then.
This year LG Electronics conducted 24-hour-long relay activities around the globe for environmental protection. 600 staff members from eight different countries participated in this relay. The activities for environmental protection began in Vietnam, followed by Kazakhstan, Ethiopia, Algeria, Brazil, Mexico, Australia, and Korea.
LG Electronics staff members volunteered in World Heritage sites such as Halong Bay in Vietnam, Casbah in Algeria, and Changdeok Palace in Korea, as well as parks and schools nearby corporate buildings. Considering the time differences involved, LG's volunteer work continued for 24 hours!
The photos above are of the 24-hour relay volunteers in Vietnam, Ethiopia, and Algeria. Staff members took part in city and marine cleanup projects in each country. People in the photo seem especially happy, probably because they had a chance to participate in meaningful activities.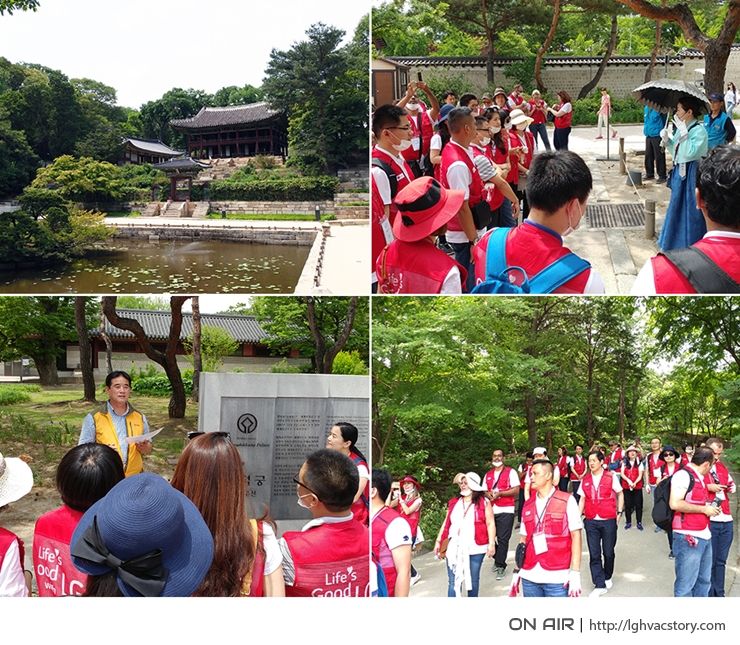 The photo above is of the volunteer work in Korea at Changdeok Palace, which is listed as a World Heritage site. They cleaned and polished every corner of the site to protect the cultural heritage. Deputy Jae-Woong Ahn, who participated in the activity, said, "It feels very rewarding to celebrate World Environment Day and to be a part of the 24-hour-long activities along with other staff members around the globe."
You may also have seen the news about how UNEP began screening their environmental protection campaign commemorating World Environment Day on one of the LG Electronics displays in New York's Times Square on May 26th. Gisele Bundchen and Don Cheadle star in the campaign, which will run until June 12th.
Source: UN Environment
As a multinational corporation developing businesses in over 200 countries, LG Electronics is devoted to sustainable business which contributes to its clients and to the rest of the world. LG's mid-and-long-term objectives include enhancing energy efficiency and lowering greenhouse gas emissions by 60 million tons (compared to 2007) by 2020 as well and plans to conserve its water consumption. Have a look at the report below to learn more about LG's goals.
We often forget that we're connected to the natural world around us. If we cannot breathe the air or consume nutrition produced by nature, then we won't be able to survive at all. How about getting "connected to nature" and having a picnic, just like in this year's World Environment Day slogan?