As efforts to reduce the human carbon footprint on the planet continue, governments, companies, and individuals are working to create and implement more efficient environmentally friendly solutions. LG Electronics is also taking on this challenge in a major way with the new state-of-the-art HVAC solution that creates a next-generation green building environment. This new technology offers precise zoned control along with benefits such as energy efficiency and convenience. Let's examine some of the groundbreaking benefits of this green energy solution.
The LEED Advantage
LG HVAC solutions help in generating points that go towards LEED (Leadership in Energy and Environmental Design) certifications issued by the US Green Building Council. LEED is an internationally recognized system for green building certification that is used for highly comprehensive ratings of all metrics of a building's performance. The LEED certification system is able to apply to all building types and includes the entire lifecycle of a building from design and construction to operation and maintenance. LG HVAC Solutions improve a building's performance for all metrics of LEED certification.
To be certified, a project acquires points based on the assessment of the following indices: Sustainability, water savings, energy and atmosphere, materials and resources, indoor environment quality and innovation and design process. And each of these indices carries a different weight allotting corresponding points according to the weight of each index. Based on the number of points a project accrues from these assessment factors, the project will then obtain one of four LEED rating levels: Certified, Silver, Gold and Platinum.
The number of points a project earns determines the level of LEED certification that will be assigned to the project. A project earning 40-49 points will be assigned a LEED Certified rating level, 50-59 points merit a LEED Silver rating, 60-79 points translate to a LEED Gold certification and 80+ point will earn a project the LEED Platinum rating, which is the highest LEED rating available.
Development projects must be registered with LEED to be sure they meet each of the LEED Minimum Program Requirements. Project registration and application to begin the certification can be done directly from the US Green Building Council website at https://www.usgbc.org/. The US Green Building Council provides a helpful platform for the registration and certification processes as well as guides and other resources for seeing a project through to certification.
Unparalleled Efficiency
LG HVAC solutions provide the resources to ensure your project can attain this valuable certification. The most significant impact that LG HVAC solutions lend to a commercial building is superior energy efficiency. The LG solution reduces power consumption by operating only at capacity levels required to deliver consistent and comfortable temperatures throughout any environment. This is made possible with LG Ultimate Inverter Compressor technology, which enables the system to meter levels and quickly and precisely reaches the specified temperature for each room or area of a building.
LEED Platinum certification with LG HVAC Solutions
LG HVAC solutions have a proven track record of delivering energy efficient solutions for building development projects around the world. The Bouygues head office building, Challenger, located in Paris, France, was fully renovated in 2014 with the goal to increase building efficiency and reduce the building's footprint. A Multi V Variable Water Flow System was introduced into the environment and reduced water flow by 70%, thus, significantly reducing energy consumption. The project successfully acquired LEED Platinum certification, the highest standard of LEED certification available. The system also successfully tackled the challenge of heating and cooling office floors with varying temperatures in each office while simultaneously effectively controlling the temperature in lobbies and atriums.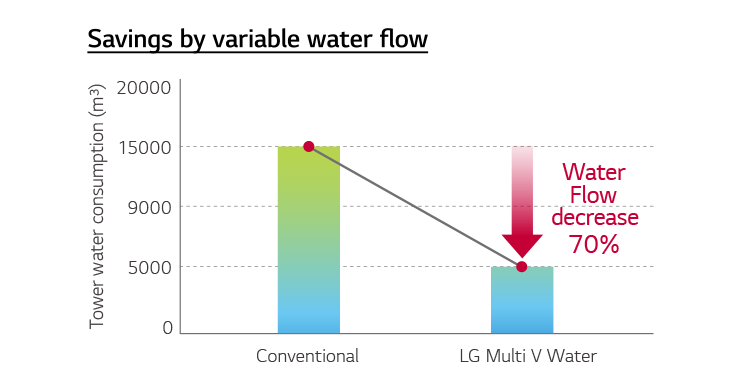 LG is delivering environmentally-friendly green building solutions for a diverse set of environments in commercial settings. But the impact of LG solutions is not only helping to improve the environment, it is also reducing costs and increasing the freedom in building designs and operations. LG will continue to provide comprehensive and energy efficient green building solution into the future.